Finding great craft ideas for boys is a challenge. You have to look for crafts that incorporate what boys typically like.
My boys love cars, planes, and animals so I had to search for crafts that would match their interests.
I also broadened my search to include crafts that I thought my kids would love.
In the process, I found some great ideas on Google from different sites and I've made sure to include a link to each of these sites so you can get the full tutorial if you want to try out the craft with your boys.
Let's begin!
16 Fun Craft Ideas For Boys
1. Balloon Car
My boys love cars so this was a fun craft for us to make. Once you've made the cars, you and your boys can have fun racing them!
Find the instructions at Wikihow
Here is a video tutorial:
2. Car Parking Numbers Game
Make learning numbers a lot of fun for your little one with this awesome car numbers game.
Find the instructions at B-Inspired MAM.
3. Clothespin and Buttons Race Cars
Recently, I've realized that my boys enjoy the experience of making their own race cars. So rather than buying race cars off the shelve, we have fun creating our own diy race car like this one.
To make this race car, head over to ikatbag for instructions.
4. Wooden Cityscape Blocks
Let the boys have fun creating their own city where they can make their own rules. This craft could easily take hours to create so it's a great idea to keep the boys occupied for a while.
Find the instructions for this craft at Creative Jewish Mom.
5. Paper Rockets
Your boys are going to FLIP over this project and you don't have to worry, it's completely safe. This paper rocket is filled with confetti so they can safely play with it inside the house.
You'll find everything you need to know to make these cool rockets at alphamom.
6. Tin Can Lanterns
If your boys are big fans of Star Wars, you can surprise them with this awesome project from Alphamom.
The directions for how to make these lanterns is found at Frugal Fun for Boys.
7. DIY Portable Tic- Tac- Toe
This awesome craft from Factory Direct Craft can help you keep your kids busy and entertained for a while so you can have some time to yourself.
Find the instructions for this craft at factory direct craft.
8. Toucan Craft
Do you have any paper plates lying around in the house? You can make use of them to create this awesome toucan bird craft.
Go to I heart Crafty Things to see how it is made.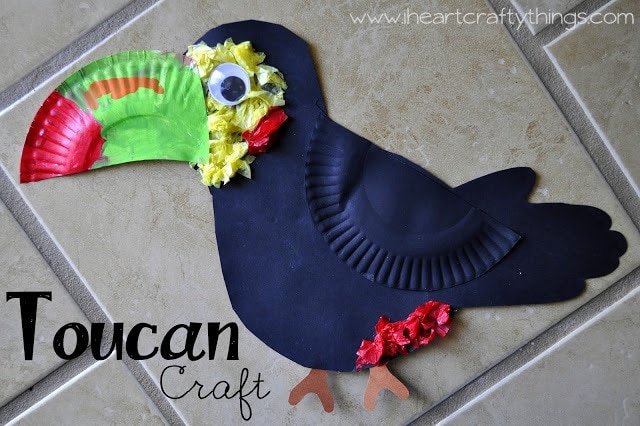 9. Make A Balloon Powered Car
10. Pipe Cleaner Ninja
You and your boys will have tons of FUN making this Pipe Cleaner Ninja.
If you'd like to try it out, head over to Frugal Fun For Boys for the full tutorial.
11. Make A Small Dragon Egg
My boys are OBSESSED with dragons. They want to learn everything about these creatures and that's why I thought that this project would be the perfect fit for them.
If your boys love dragons as much as mine do, check out the instructions of how to make a dragon egg over at Our Peaceful Planet.
12. Juice Box Boats
This is a very easy craft to make and your boys will love it!
You can find the directions at THE JOYS OF BOYS website.
13. Marshmallow Shooter
This is a great indoor project to make with your kids because it's really easy to make yet it's packed with lots of fun. You'll need balloons, plastic cups, mini marshmallows, and pom poms to make the marshmallow shooter.
Go to Come Together Kids to find the complete tutorial.
14. Glow In The Dark Ghosts
Although Halloween is still far away, you can still make these frightening glow-in-the-dark ghosts to scare each other at home. You can even use it when Halloween comes around.
The instructions for making these super cool ghosts is found at Squigly's Arts & Crafts.
15. Bubble Wrap Crocs
This is a unique and fun way to use the bubble wrap that you have in the house instead of throwing it away.
Get the instructions on how to make these crazy crocs at postivelySplendid.
16. Bedbugs
Boys love making insects so this is a great idea for a project.
Find the instructions for making these Styrofoam bugs at Parents.