In our house, it's hard to keep outdoor toys neat and organized. Toys are always laying around everywhere in my backyard despite my best efforts to keep them organized.
So, I was looking for an outdoor toy storage solution that would keep my backyard neat and organized, while also ensuring that the toys are accessible to my kids.
I set out to discover some outdoor toy storage ideas that would help me get organized. On my journey, I unearthed 19 great outdoor toy storage ideas that I'm going to share with you today.
1.COVERED KIDDIE PARKING GARAGE
Source: Mom Endeavors
The goal of this kind of organization is to protect outdoor toys from direct sun exposure while also keeping them organized. This is a great way to make your kids' toys last longer especially in the summer heat! If you want to store those outdoor toys while still keeping them in good condition, you should try this.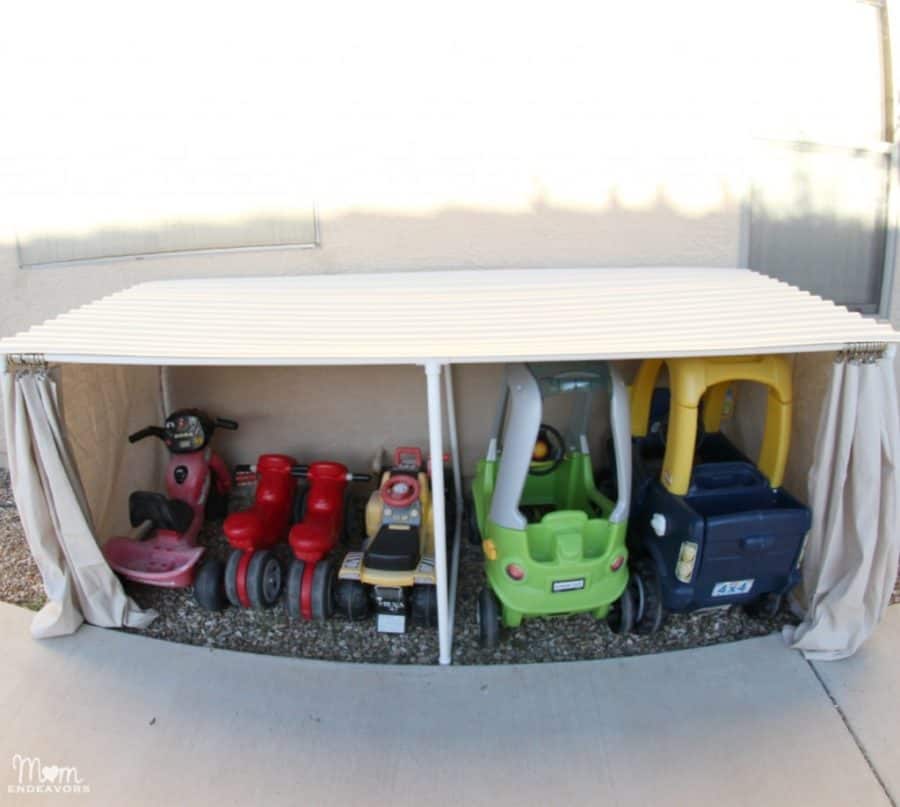 2. DIY PEGBOARD STORAGE
Source: The Creativity Exchange
This is a fantastic way to organize your outdoor toys because you can easily adjust it to fit your needs. You can also use a variety of colors to spruce up your pegboard walls. This system of storage is so versatile that you can easily modify it to suit any room in your house, regardless of size!
What toys can you store on a pegboard?
Hula hoops
shovels
Jump ropes
Water guns
Buckets with handles
Baseball bats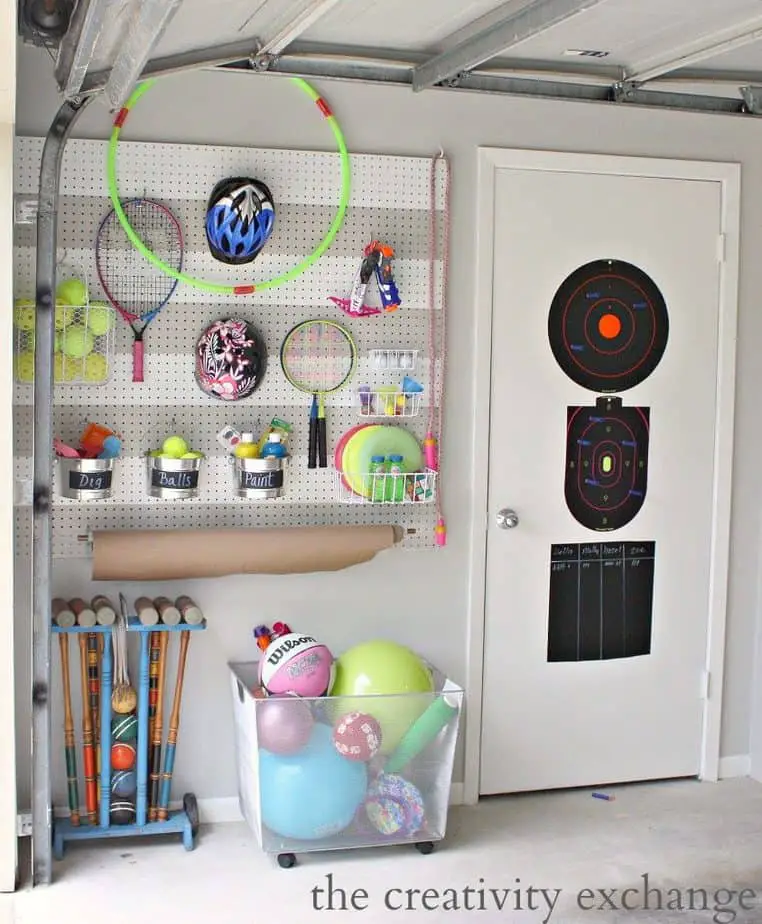 3. ORGANIZING OUTDOOR TOYS
Source: Life Your Way
Life your way provides six awesome ideas for DIY outdoor storage. One of them is hanging milk crates. It's a very simple but genius idea that will quickly help you organize your outdoor toys.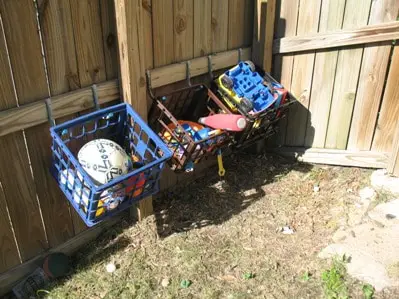 4.Ball Storage
Source: 100 Things 2 Do
If your kids are into soccer, basketball, or volleyball, the Bungee Cord Ball Storage, is a great idea for outdoor toy storage.You require very little material to put it together, and on top of that, it's very cheap.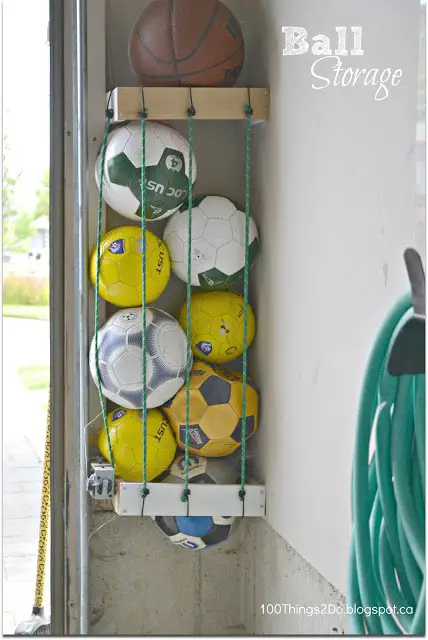 5. Outdoor Toy Organization
Source: I Heart Organizing
Over at I Heart Organizing, they have developed an innovative way to make use of the space behind the garage door. This is an unused space that many people don't even consider when organizing the garage. Setting it up is very simple. All you need to do is install shelving units and put your outdoor toys in portable bins!
6. Toy Storage
Source: Happy Hooligans
Happy Hooligans offer many cool ideas for Sandbox Toy Organization and Sandbox Play Ideas. Their ideas are fun and very easy to execute.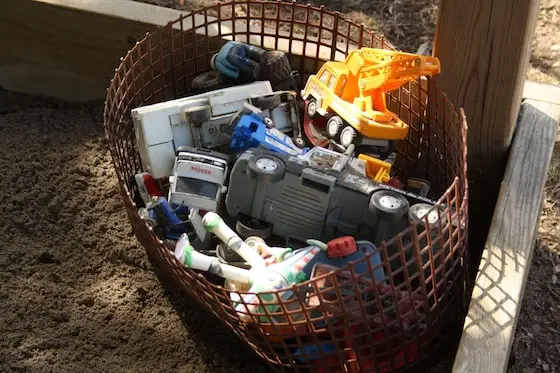 7. FENCE TOY STORAGE
Source: La Silla Turquesa
La Silla Turquesa found a simple and efficient way to keep outdoor toys stored and organized by making use of your fence. All you have to do is attach some hooks to your fence and hang plastic baskets.
8. DIY PARKING LOT
Source: Organizing junkie
This is a great outdoor toy storage idea to get your kids involved in organizing their toys.Basically, it involves using duct tape to create parking spaces for your kids' bikes, toy cars, and scooters. So when they're done playing, the kids have to neatly park their toys.
9. ORGANIZING TOYS
Source: Organizing junkie
If you're looking for a very simple system of organizing outdoor toys, you should try this method from organizing junkie. It's so simple that even your kids could do it!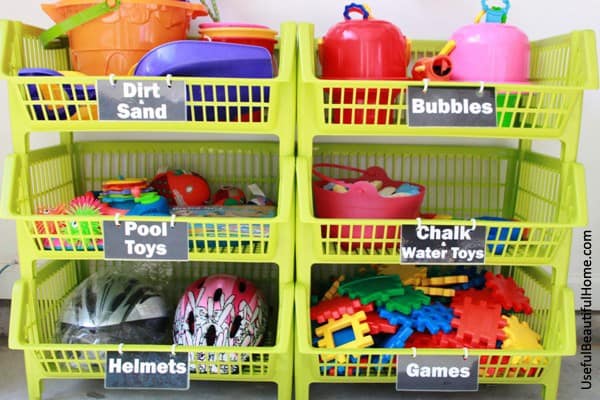 10.DIY OUTDOOR TOY STORAGE
Source: Playdates to parties
If you're having trouble organizing your outdoor toys, you could use some help from playdates to parties. They provide awesome tips that will make outdoor toy organization a breeze.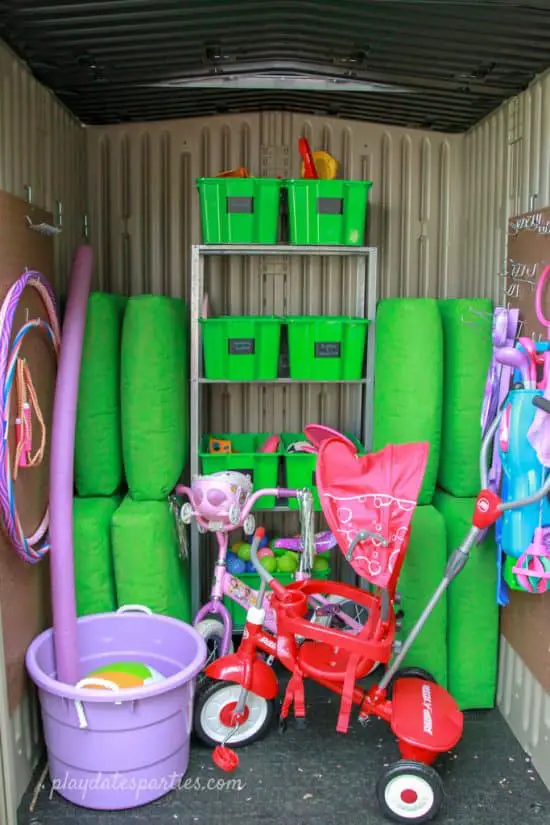 11. DIY TOY STORAGE
Source: Family Handyman
If you're great at DIY projects, this outdoor toy storage idea is just for you. Over at the Family Handyman, they have created an easy and fun DIY solution for outdoor toy storage.Your end product should look something like this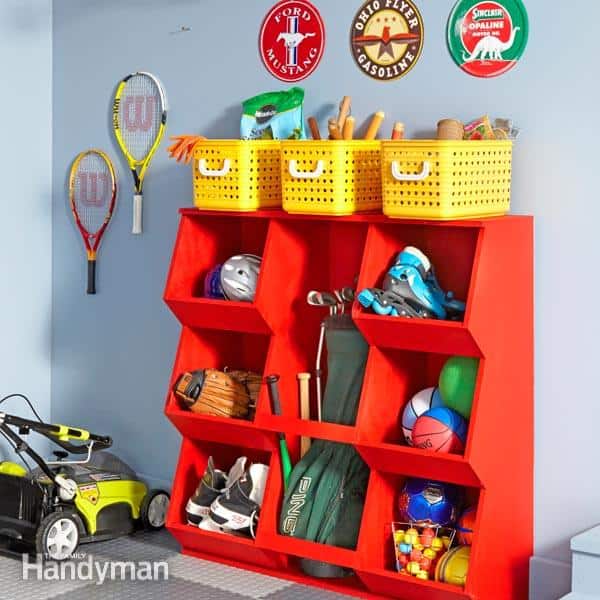 12. SAND TOY STORAGE
Source: our wonder-filled life
Our wonder-filled life offers great storage ideas for your kids' sandbox toys. Their solutions are very innovative and easy to execute. On top of that, they are very cheap so you won't break your budget!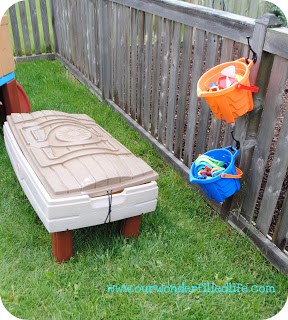 13. DIY BACKYARD BIKE STORAGE
Source: Refresh Living
Over at refresh living, they offer a tutorial to help you get started with your DIY backyard bike storage. If your kids are anything like mine, they tend to leave their bikes laying around everywhere. With this solution, you have a central location to store your kids' bikes and other rideable toys.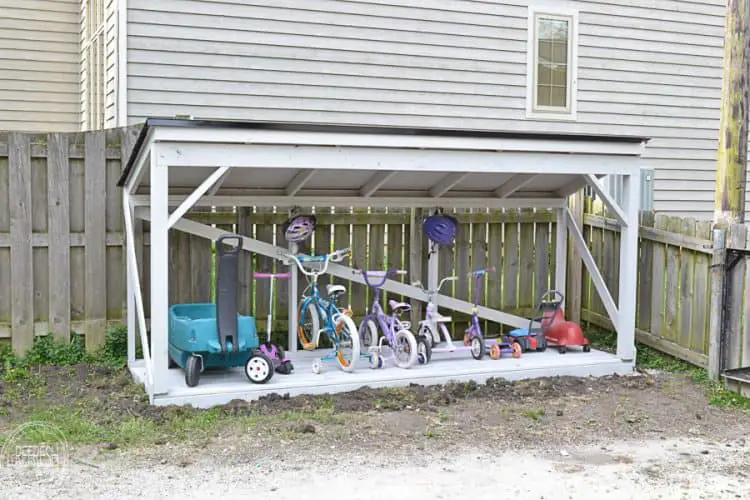 14.BIKE STORAGE SHACK
Source: ICreativeD
If the DIY backyard bike storage isn't working for you, here is another way to store your kids' bikes. This innovative storage shack has a door on sliders that easily opens and it doesn't require a lot of space.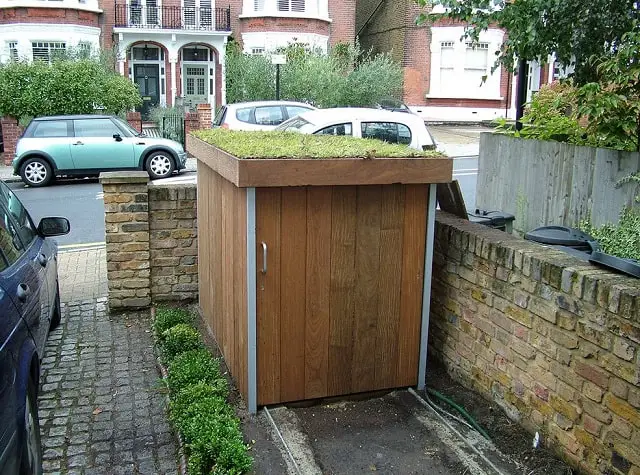 15.DIY NERF GUN STORAGE
Source: Inspiration Made Simple
Over at inspiration made simple, they made an awesome pegboard to organize and store nerf guns. They used two 2′ x 4′ pegboards to create a very simple yet efficient design.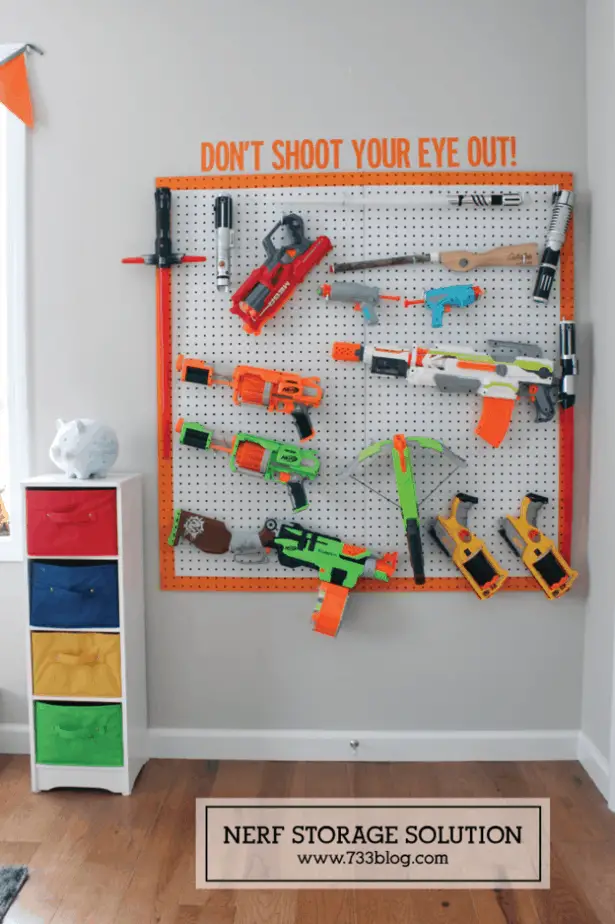 16.OUTDOOR TOY STORAGE SOLUTION
Source: The Organized Mama
At the organized mama, you will learn an awesome outdoor storage idea that involves using milk crates. This idea is fast, easy, and cheap.
17. DIY TOY STORAGE SHED
Source: We're parents
At we'reparents.com you will find a great tutorial on building a toy storage shed from people who actually built one.The goal of this shed is to protect your kids' toys from the elements and to provide a durable storage solution.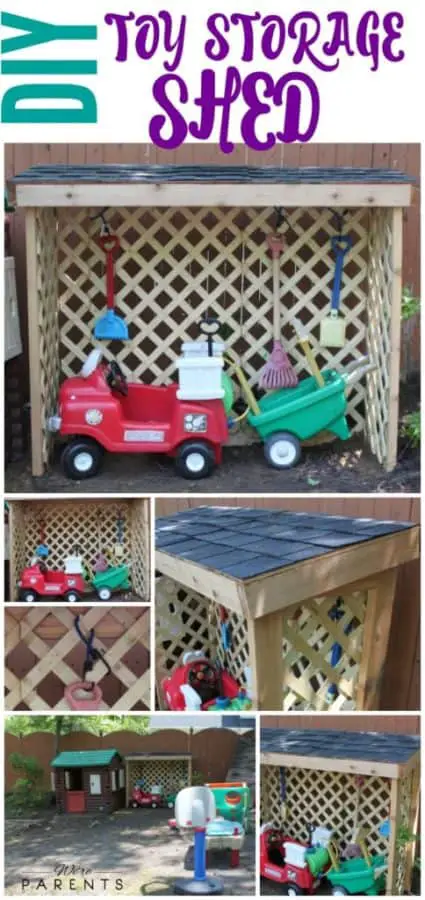 18. DIY STORAGE BENCH
Source: The Handyman's Daughter
This is a great outdoor toy storage idea for those who want to save on space. Basically, this is a two-in-one piece that stores your outdoor toys seating for up to three people!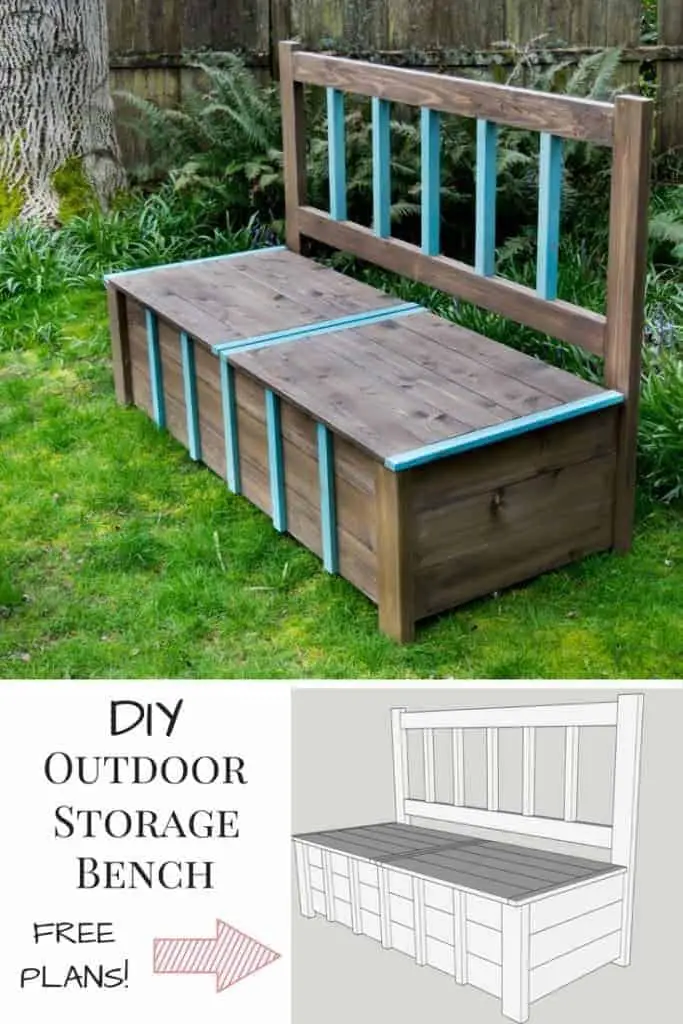 19. ORGANIZING OUTDOOR TOYS
Source: Domestic Charm
This outdoor toy storage idea involves using buckets to store little toys that are strewn everywhere. These buckets are labeled for easy identification. This design is very simple and easy to execute.