The best gift you can get your kids this summer is a fun tree swing that they can enjoy while taking in the fresh air. A tree swing is not just for the kids. It can be used by adults also so it's a great source of entertainment for the whole family. Here, we have compiled a list of 20 best tree swing ideas for inspiration. Enjoy!
Tree Swing Ideas For Kids
1.Tire Swing
Tire swings are one of the oldest ideas for tree swing designs. They are so easy to put up plus, they are really affordable so they're a great option if you're on a budget. Click Here to learn how to hang your tire swing.
2. Disk Swing
You can use a durable disk seat and hang it from a rope to make a fun swing for your kids to enjoy. It is a fun DIY project that you can take up over the weekend with the help of your family. Here are some simple instructions to follow to make your own backyard disk swing.
3. Flying Saucer Swing
Flying saucer swings are great because they're quite sturdy and they can accommodate more than one kid at once. These swings are made up of solid fabric bases and they're available on Amazon. But how can you find the best flying saucer swing? Find out Here
4. Spider Net Swing
If your kids are into Marvel, they would totally love this swing. Just like the flying saucer, this swing is able to accommodate more than one kid at once so, you won't have kids fighting over a swing. They're also incredibly sturdy to be able to hold a lot of weight. You can find this AWESOME swing on Amazon. You can find detailed instructions on how to install your own WebRiderz spider net Here.
5. Airplane Swing
Although it's not the easiest DIY tree swing idea, the airplane swing is an awesome tree swing that your kids will love (If you're able to pull it off!). If you want to build this tree swing from scratch, check out these detailed instructions from Kirsten at Dunn Lumber.
6. Skateboard Swing
If you have old skateboards lying around, why not put them to good use by creating a DIY skateboard swing. This swing has a really simple design that isn't hard to execute. Check out these step-by-step instructions that explain how to make your own.
7. Treehouse Swing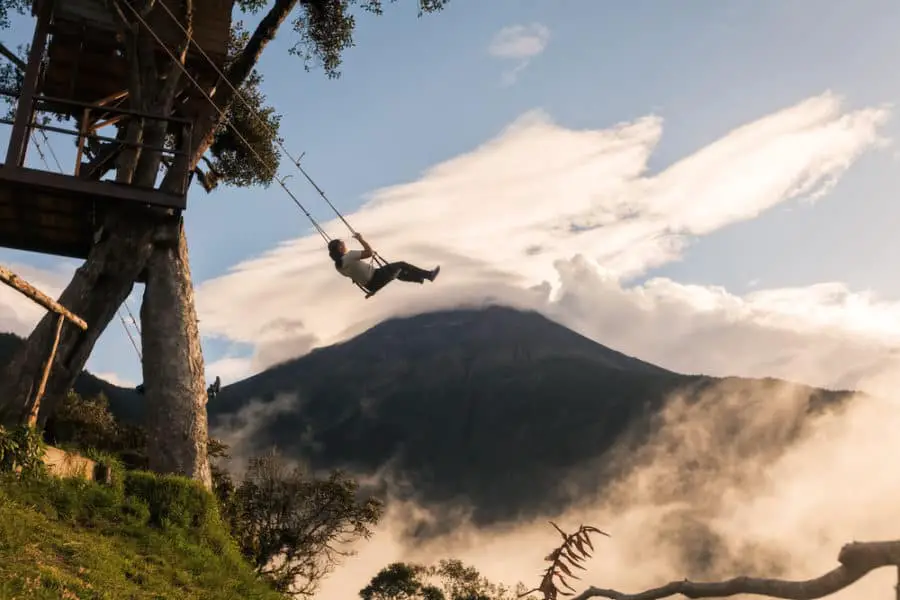 If you already have a treehouse in your backyard, you can make it more awesome by adding a tree swing that your kids can enjoy any time they're in their treehouse.
8. Toddler-Safe Tree Swing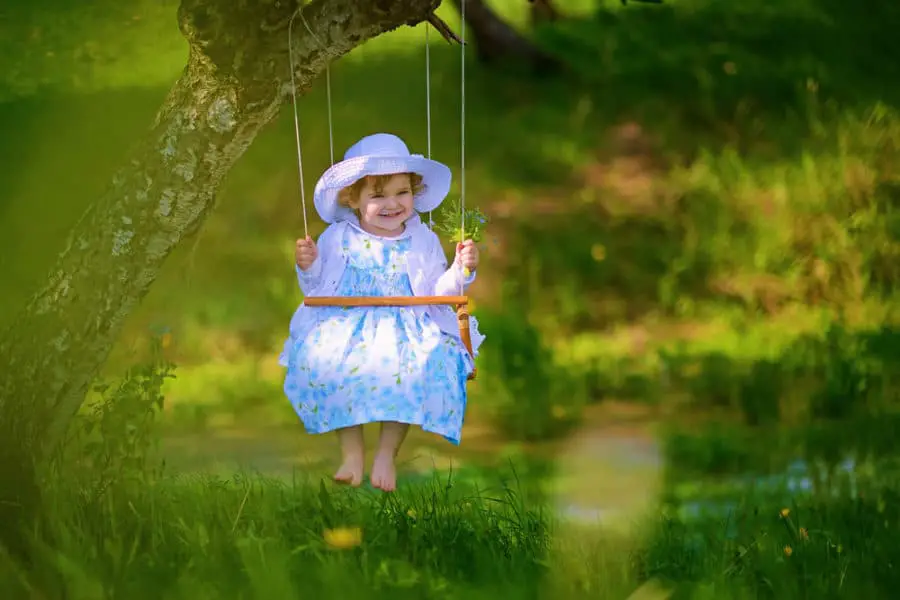 Just because you have toddlers, doesn't mean they can't enjoy a tree swing. Most tree swings are not safe for toddlers, and that's why we have the toddler-safe tree swing that has a protective front and back bar to ensure the safety of your toddler.
9. Rope Swing
One of the simplest swings you'll ever find is the rope swing. All you need is a long, knotted rope to make this tree swing. This swing is perfect if you have a lake or pond in your property that your kids can jump into. However, before allowing your kids to use this swing, you should ensure that it's sturdy and attached securely to a tree.
10. Wooden Rope Swing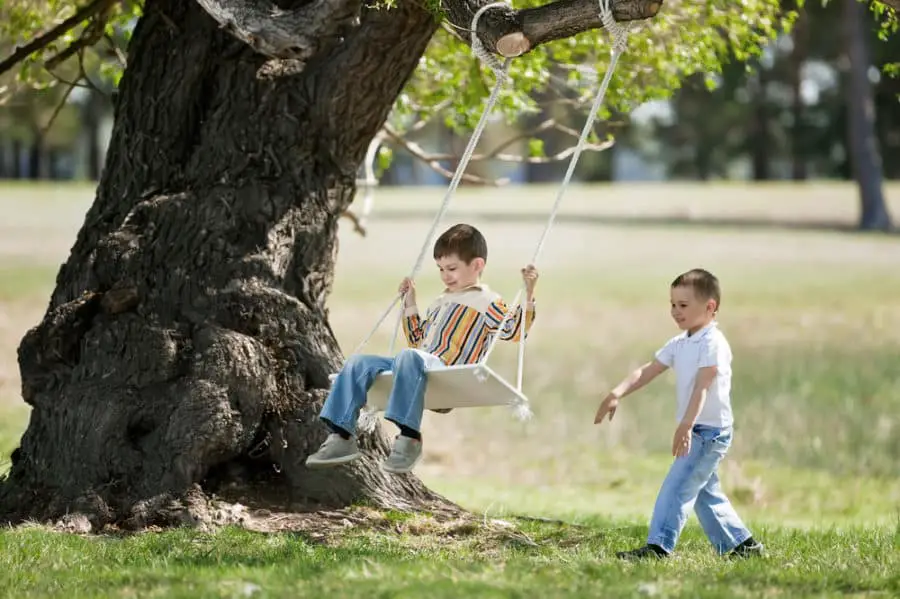 Wooden rope swings are the epitome of tree swings. These classics are perfect for both kids and adults! HGTV explains through photography and written instructions on how to build one. In only 14 steps you can build a wooden rope swing from scratch! Find out how
Tree Swing Ideas For Relaxing
11. Porch Swing on a Tree Limb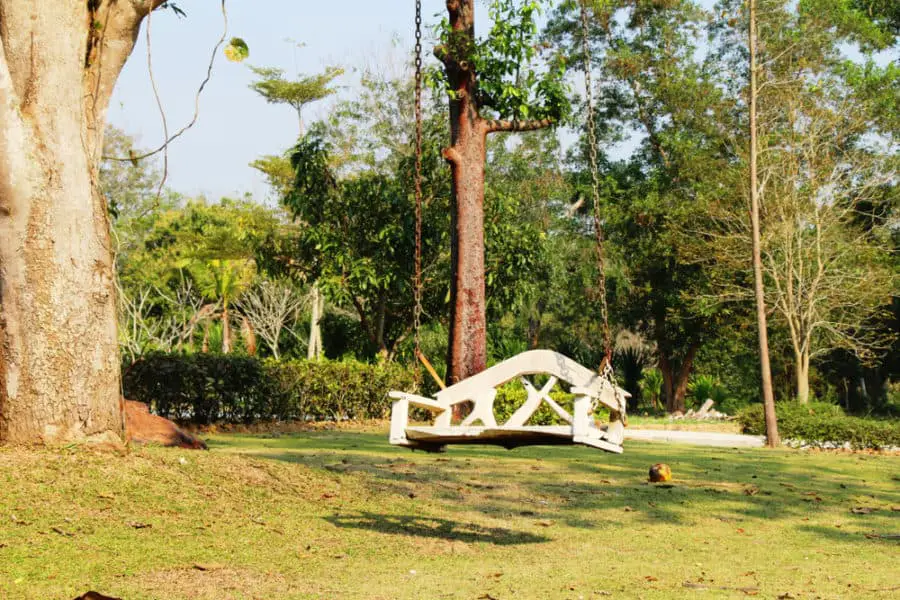 Porch swings are a beloved piece of the past… but, what if you don't have a porch? Megan at Hunker.com instructs how to stylishly hang a porch swing on the limb of a tree! Here's how to do it
12. Hanging Hammock Chair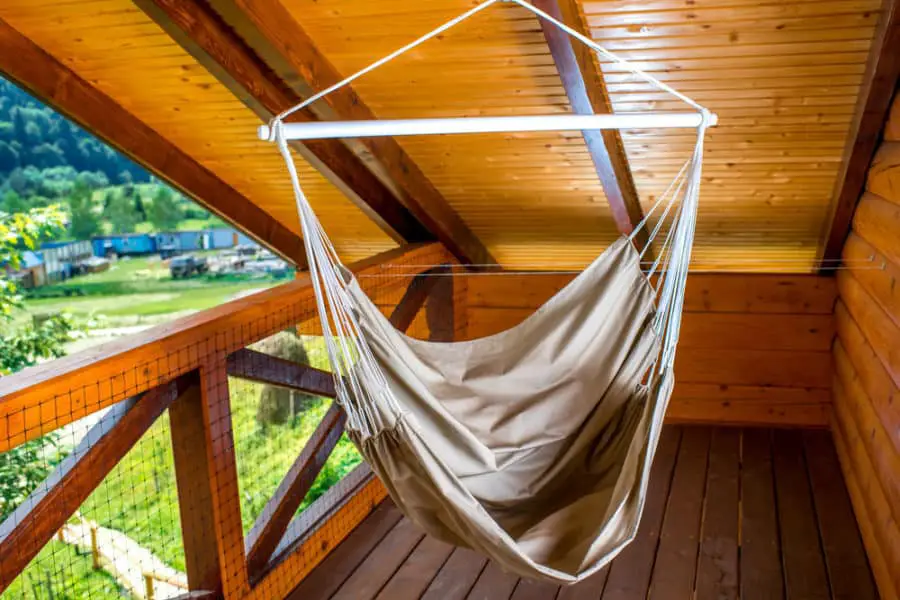 What's better than rolling around and getting tangled in a regular hammock? A hammock chair. No tangling, no stress – just sitting and relaxing. The New York Magazine lays out the best hanging hammock chairs of this past year. Browse for yourself.
13. Traditional Hammock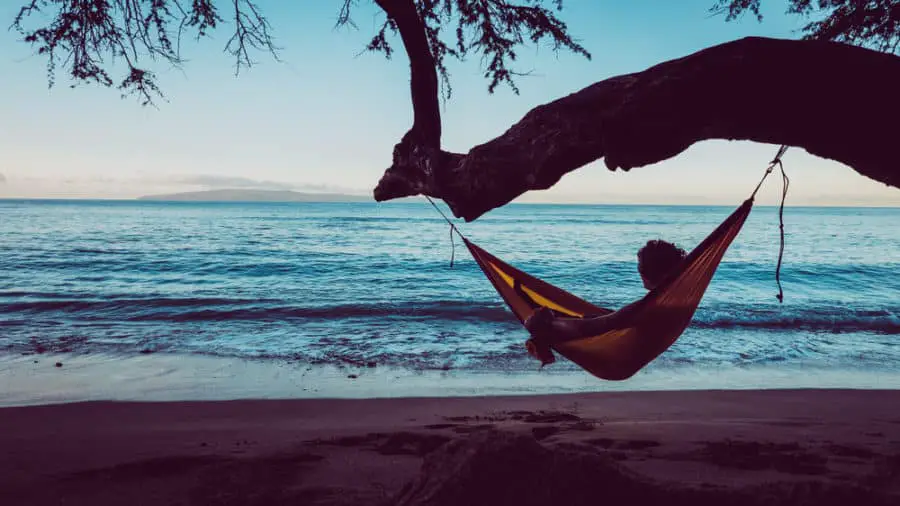 While traditional hammocks can be a little tricky to manage, they're still a classic when it comes to outdoor lounging. They're comfortable to lay on and great for a sunny afternoon. Yellow Leaf Hammocks describes the best methods of hanging your traditional hammock indoors and outdoors. Find out how
14. Swing Chair
A great way to reuse an old chair around your home is to make a swing chair out of it. Check out these detailed instructions by SFGate on how to create your own DIY swing chair.
15. Caged Hammock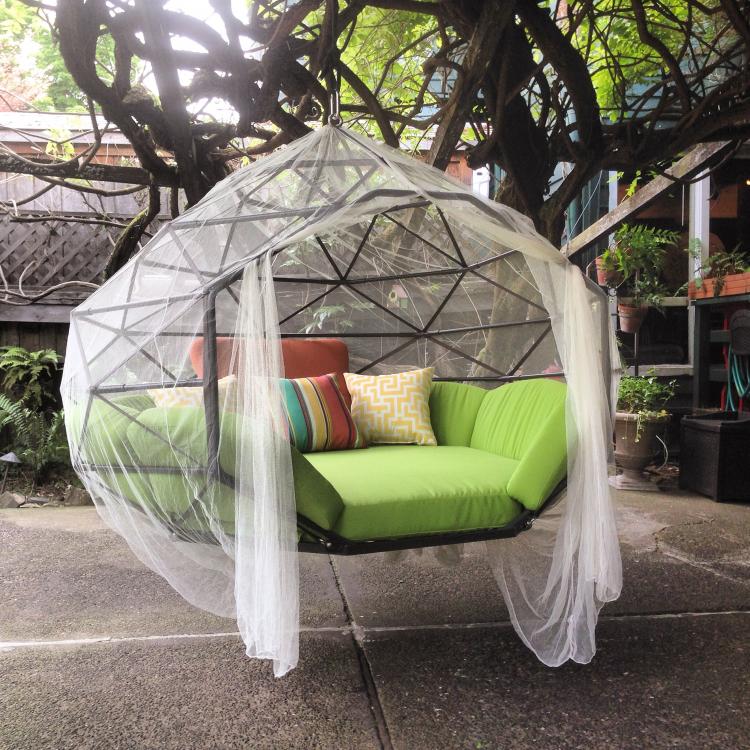 Caged hammocks are perfect for entertaining and lounging with family or friends because they are multi-person swings, meaning they can accommodate a large number of people. You can learn more about these hammocks through the Kodama website here
16. Hanging Rattan Wicker Chair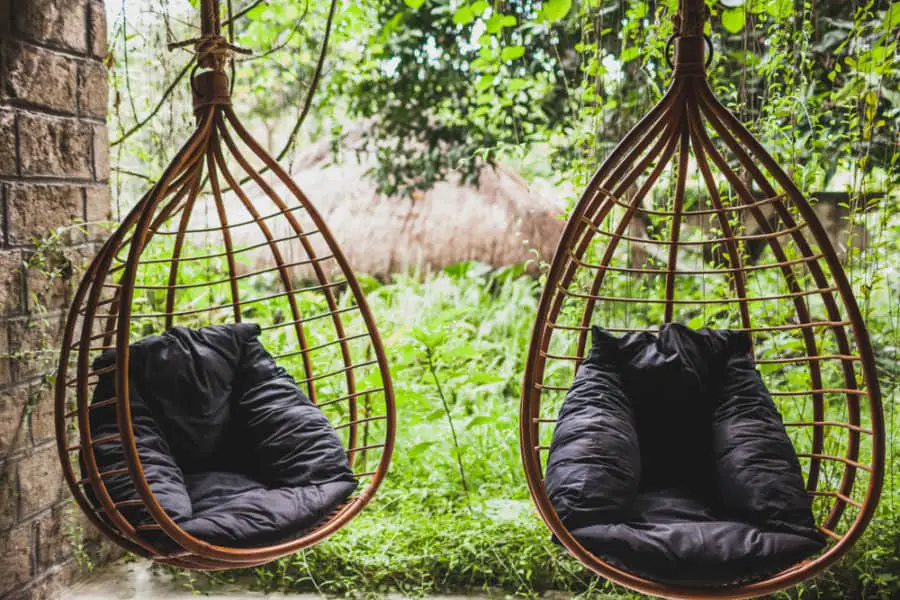 These 1960 design inspired rattan wicker chairs are the perfect addition to the backyard of an old soul. Just add cushions to the bottom to make your vintage-inspired chair a comfy seat to relax in. Hayneedle.com provides inspiration on how to decorate your rattan wicker chairs. Check out their ideas
17. Tree Swing with Entwining Faux Flowers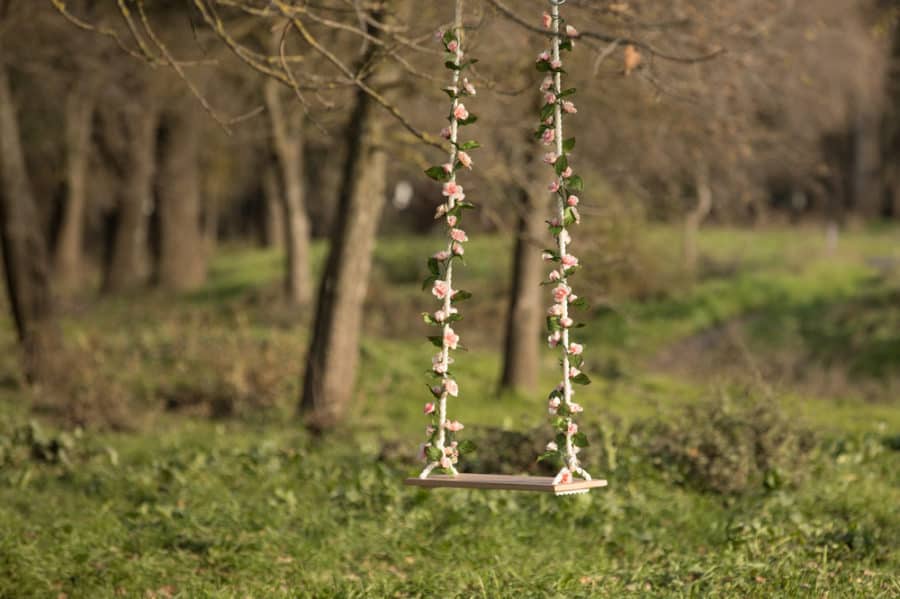 This is a wooden tree swing wrapped with fake wire flowers to give it an elegant vibe. If you have a plain swing, this is the perfect design to completely transform it into something more aesthetic.
18. Rustic Wooden Chair with Wooden Beam
This wooden chair tree swing is made especially for those who enjoy a rustic, country-side look. This swing blends perfectly with the surrounding nature so it won't stick out in your yard.
19. Swing Made of Trees
This is a tree swing that is made entirely out of rugged tree stumps and smoothed wood (aside from the metal bolts and chains) making it one of the most unique tree swings we've ever seen.
20. Luxury Swinging Chair
If you're looking for style and comfort, this exquisite chair is perfect. It is both aesthetically pleasing and brilliant in its design. Unlike most swing chairs, it is able to support a lot of weight. Learn more
As you can see, tree swings come in all shapes and sizes and they can be used differently. We hope you got inspired by some of the unique tree ideas we've featured in this post.