Paper crafts are ridiculously easy to make.
That's why they're my go-to diy crafts projects to make with my kids at home.
I know that most moms (me included) dread the idea of creating an art project with their kids because most of them are so hard to pull off.
The good news is that paper crafts are some of the easiest arts and crafts projects you'll ever make.
In this post, I've gathered some of my favorite easy paper crafts for kids that I enjoy making with my kids.
Read Also: 10 Easy Diy Crafts For kids That Will Get You Through Quarantine
20 Fun Paper Crafts to Make For Your Kids
1.Paper Heart Penguin
This super cute penguin from crafty morning is very simple to make. Even better, it will cost you next to nothing!
All you'll need for this beautiful craft is a pair of scissors, glue, a piece of orange, white and black construction paper, and a pair of big googly eyes. Full Tutorial
2. DIY Marble Run
Empty toilet rolls are great for arts and crafts so don't throw them out!
Powerful Mothering used empty toilet rolls to come up with this beautiful craft. She used the inner tubes from kitchen paper, toilet paper, and wrapping paper to create this awesome obstacle course!
Wanna try it out? Check out the full tutorial HERE
3.Racing Cars
Kiflies Levendula made this awesome racing car from toilet paper rolls and wheels cut out of cardboard. To get the instructions, you will need to translate the page because everything is in Hungarian.
Wanna try it out? Check out the full tutorial HERE.
4.Cardboard Tube Minions
My kids love the Minions movies so they went crazy for this. This idea came from Crafts by Amanda and all she needed were toilet paper rolls, glue, scissors, and markers.
Wanna try it out? Check out the full tutorial HERE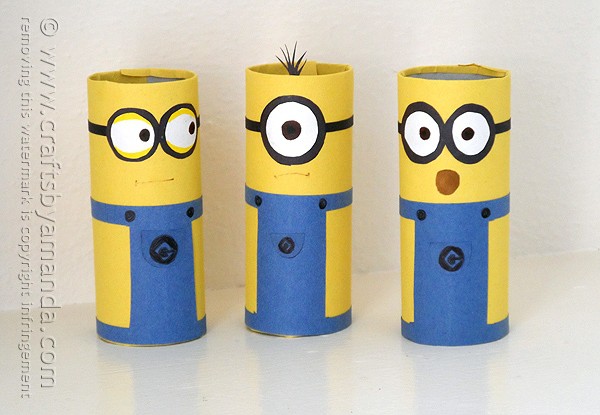 5.Paper Roll Owls
The folks at The Centsible Life share their step by step instructions on how to make your own paper owl rolls.
Check out the full guide HERE.
6.Octopus Toilet Paper Roll
There are so many crafts you can make with toilet roll tubes, this is just one of them. You can make this fun little octopus by Crafty Morning using your leftover toilet rolls. You can decorate it however you like.
Check out the complete tutorial HERE.
7.Fish Paper Craft
This cute fishy paper craft from Buggy and Buddy makes a great decoration for any party you might have. It's also great for decorating your kids' rooms. Your kids will enjoy it.
Find the full tutorial HERE.
8.Paper Lanterns
Paper lanterns are very common in festivals in China and Japan but they can also look great in your kids' playroom. These colorful lanterns from Inner Child Fun are great for kids of all ages.
Check out the full step by step tutorial HERE.
9.Paper Chain Caterpillar
This is a fun, simple craft from DLTK-Kids that the whole family can enjoy making. It's also good for helping kids learn their patterns.
Check out the full tutorial HERE.
10.Paper Weaving Craft
I used to do make this a lot when I was a kid and now, my kids also love doing it. It's really fun to weave something to make a beautiful design that you can display in the house. This craft will help your kids love art and be creative.
Find the full tutorial HERE.
11. Easter Paper Crafts
Krokotak presents us with this creative easter paper craft that you can use as decoration for Easter. To get the full instructions, make sure to translate the page because it's in Bulgarian.
HERE are the instructions.
12.Folded Paper Bracelets
If you have the kids' old paintings lying around, repurpose them to create this awesome looking bracelet from Pickle Bums. If you don't have old paintings, you can use colored craft paper- It will do just fine.
Find the full tutorial HERE.
13.Super Hero Cuffs
My boys love superheroes so it was obvious that they would be excited by this papercraft. The best thing is that they are very easy to make.
All you need to do is paint empty paper rolls and decorate it with glitter and stickers and voila you have yourself a very functional superhero cuff like that of Superman.
Eager to try this out? Find the full tutorial HERE.
14. Snowflake Ballerinas
This is yet another awesome craft from Krokotak that deserves to be on this list. They combine making paper dolls with the old classic cut out snowflake craft to come up with this beautiful craft.
Check out the full tutorial HERE.
15.Accordion Paper Flowers
This has got to be one of the most beautiful paper crafts I have ever seen! This easy paper flower craft from Mom Junction is great for smaller kids and toddlers. As a bonus, you can use it to cool off in the summer heat!
Find the full tutorial HERE.