My kids and I have been debating on which gift to get dad this year.
It's very hard to buy a gift for John (my hubby 😊) because he always says that he wants nothing.
This is really frustrating for me and the kids because we really want to get him something to show him just how much we love and appreciate him.
So, after hours of debating on which gift to buy, we finally decided that it would be much more meaningful if we actually make the gift ourselves.
That's when we started researching different father's day crafts that are easy enough for kids to make.
We discovered a few great ideas that I'm going to share with you today.
Read on!
Read Also: 40+ Homemade Father's Day Gift Ideas From Kids That'll Make Dad Proud
Easy Father's Day Crafts That The Kids Can Make
1. Fingerprint Daddy and Me Mug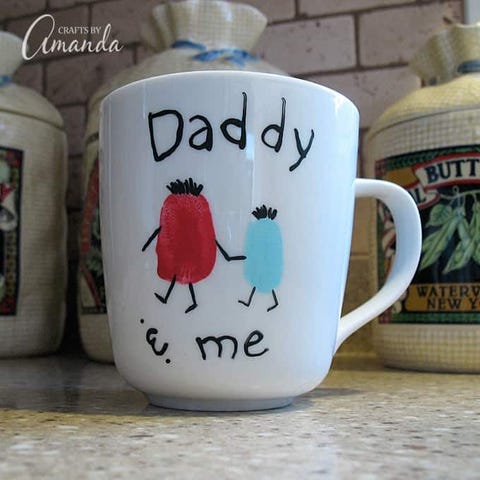 I got this idea from Crafts by Amanda and I thought it would be the perfect gift because every time he drinks his coffee, he will be reminded of the kids.
It's very simple to make and you can get the tutorial over at Crafts by Amanda.
2. Handprint Craft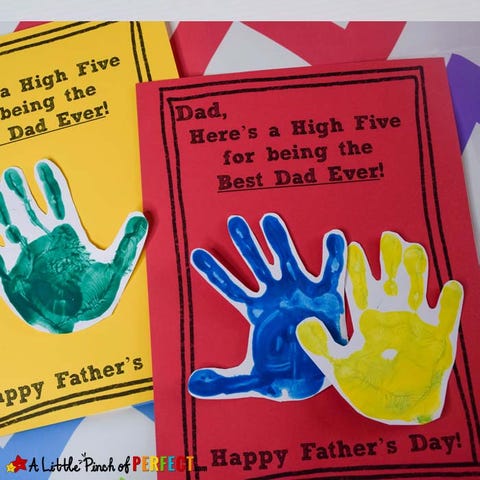 We decided to make this card from A Little Pinch of Perfect , put it in a frame, and display it in the living room where dad could see it all the time.
If you want to make this card craft, check out this detailed tutorial from A Little Pinch of Perfect.
3. Photo Bottle Top Key Ring
The Photo Bottle Top Key Ring is a very simple craft but also very thoughtful. Every time dad goes to use his keys, he'll think of the kids.
Get the tutorial on how to make this from Kids Activities blog.
4. Best Dad Key Ring
This is another awesome idea for a father's day key chain craft. I love key chain crafts because fathers carry their keys everywhere. This means that everywhere he goes, your gift will be with him and he'll constantly be reminded of you.
You can get the tutorial for this cool father's day key chain craft from Hello Bee.
5. Father's Day Sharpie Mug
This is an easy and fun father's day craft that you and the kids can have fun with. This great idea comes from I Heart Arts N Crafts.
6. Monster Hug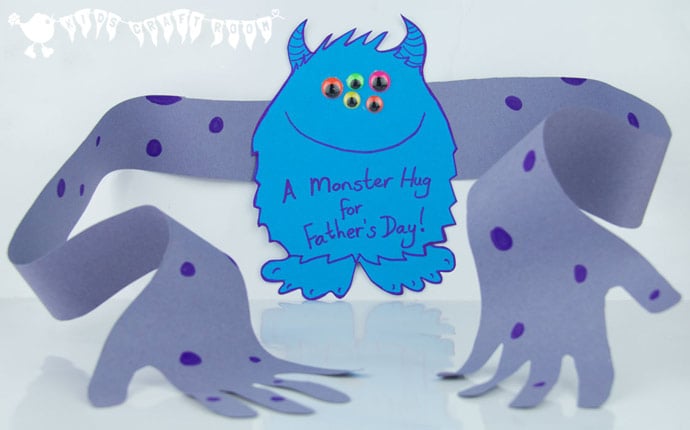 The Monster Hug Father's Day Card is a fun and quirky gift that will make dad very happy. This is one of my favorite crafts to make because we always have a blast with the kids when making it. It can be made for different occasions (I actually received one for Mother's day 😂)
If you want to learn how to make it, check out the tutorial from Kids Craft Room.
7. Toilet Roll Father's Day Cards
There are so many great ideas for homemade father's day cards and this is just one of them! I got the inspiration from Pink Stripey Socks where they explain how you can make one of your own!
8. Paper Plate Tie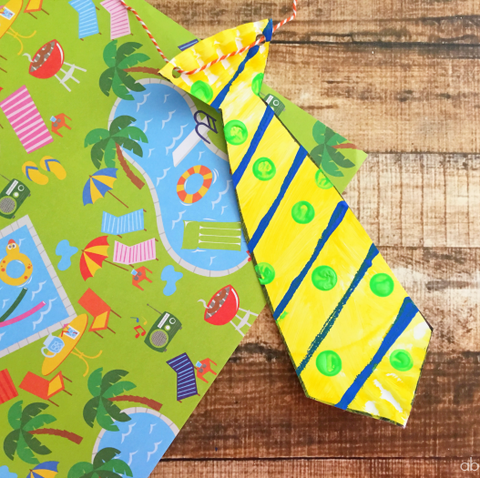 Although dad won't be able to wear it, the paper plate tie is a great gift that he'll cherish. It will actually mean more to him than a store-bought tie because you put a lot of effort into making it.
You can get the tutorial for this awesome paper craft over at About A Mom.
9. Handprint Golfer Father's Day Craft
John loves golf so I knew that this would be a perfect gift for him. I got the inspiration from Crafty Morning and it was surprisingly easy to make!
10. Mini Necktie Piñata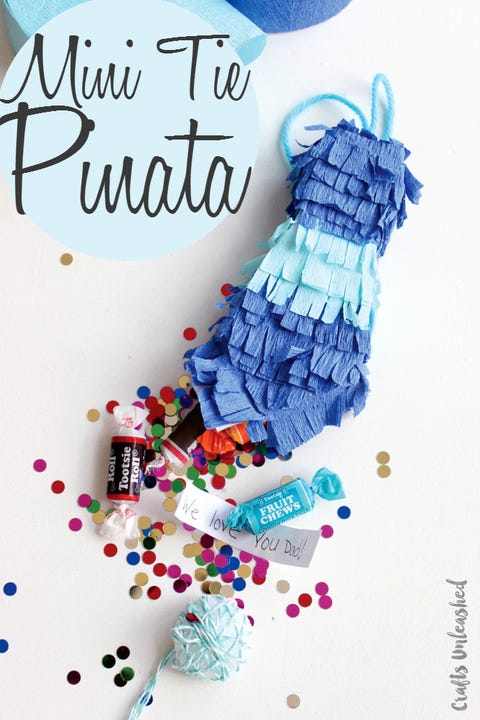 When we saw this craft from Crafts Unleashed, we immediately wanted to make it because it looked like so much fun!
11.Tape Resist Painting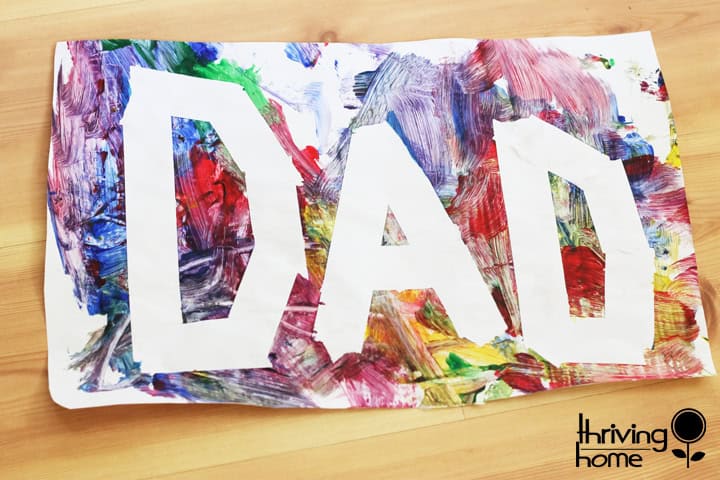 I love this craft from Thriving Home because even a non-crafty person can do it. It's very simple and it only takes a couple of minutes to complete.
Get the tutorial from Thriving Home
12. Superhero Card
Let dad know just how much you admire him with this simple yet awesome superhero card. It's a heartfelt gift that he will cherish for a long time to come.
Get the tutorial at Glued To My Crafts
13. Handprint Yoda Card
Although this craft looks a little tricky, it's actually very easy. Here is tutorial from I Heart Arts n Crafts that gives you detailed instructions with pictures.
14. Origami Shirt and Tie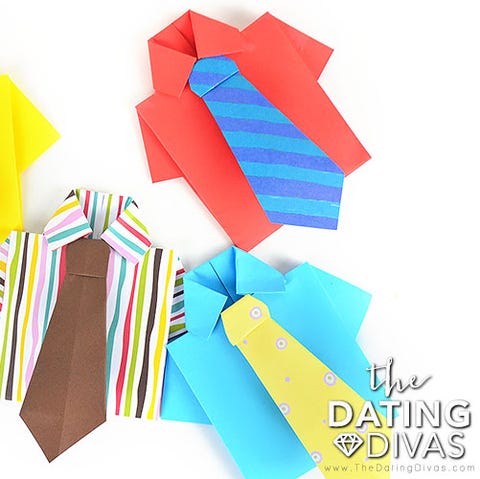 The Dating Divas shows us how to make this simple craft from only two pieces of paper! Get the complete tutorial Here.
15. Avengers Bookmarks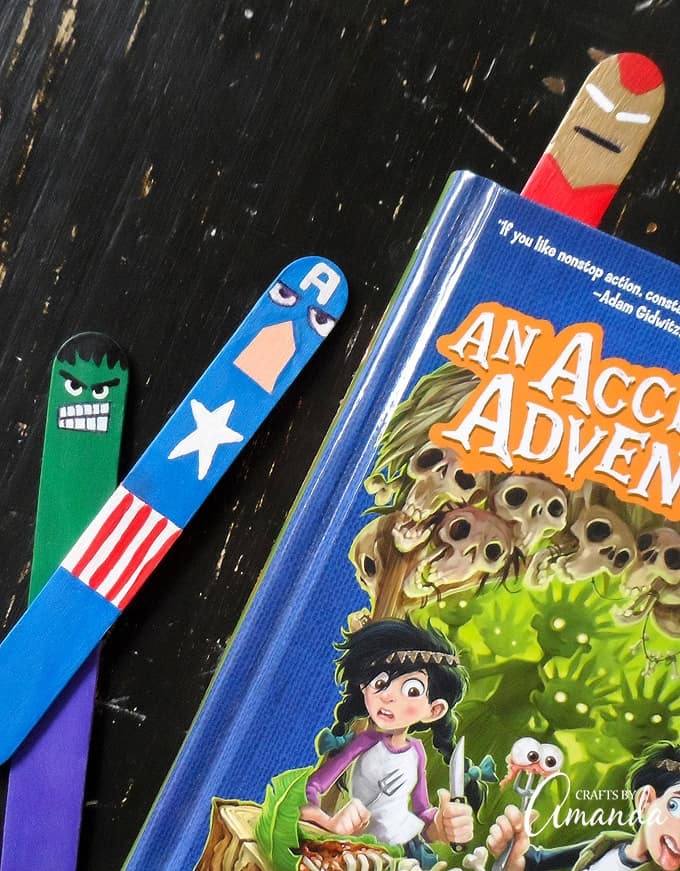 My kids love the avengers movies that's why I knew that they would have tons of fun making this. On top of that, John loves reading so I knew that he would love this gift.
I got the complete tutorial from Crafts By Amanda.
16. Paper Bag Dad Puppets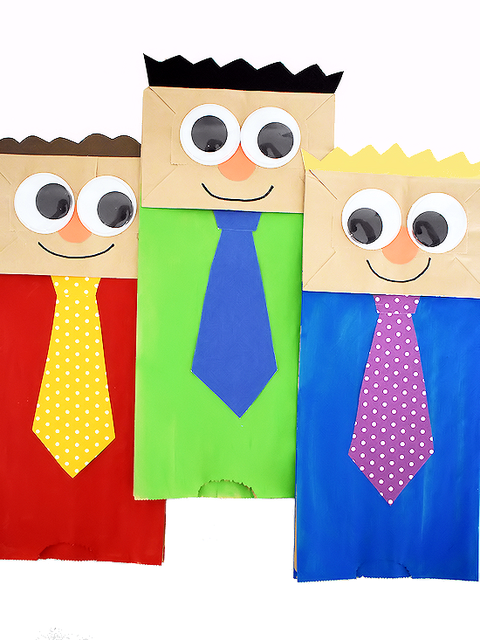 To learn how to make these awesome paper bag puppets inspired by dad, check out the complete tutorial by Our Kid Things.
17. Handprint Baseball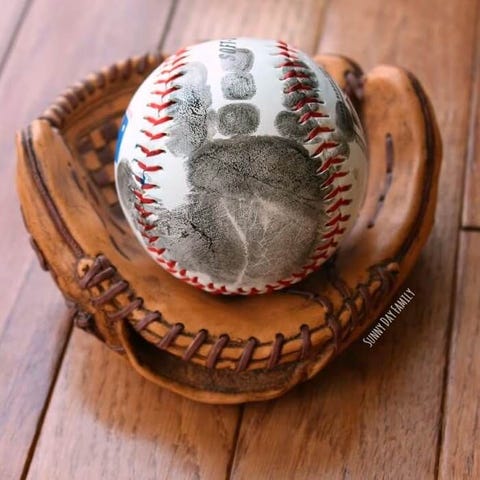 John loves baseball and he's been teaching the kids how to play. I knew that this gift would bring a tear to his eye because it will remind him of the time he spends with the kids playing baseball.
I got the idea from Sunny Day Family.
18. My Dad "Rocks"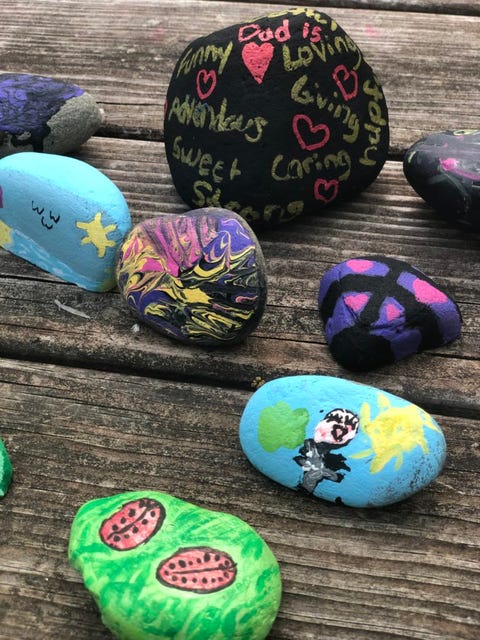 Father's day crafts don't get simpler than this. You only need to pick a couple of rocks from the backyard and decorate them for dad.
Get the tutorial at Our Wabi Sabi Life.
19. Dad Award Ribbons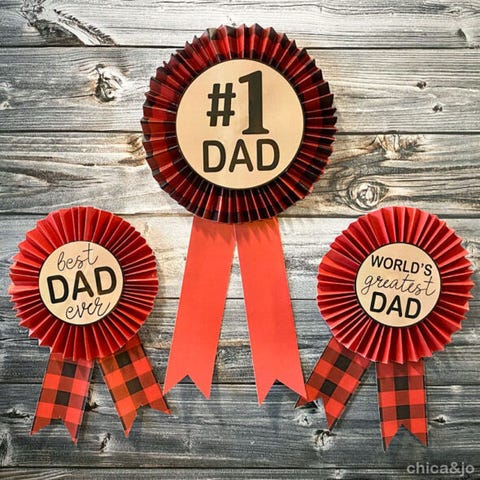 You can make these cute award ribbons for dad to show him that he's the best.
Get the tutorial at Chica and Jo.
Are you loving any of these father's day crafts ideas?