Toddlers need a lot of activities to keep them happy indoors otherwise they cannot stay still.
Now that we're stuck indoors with our toddlers due to the Coronavirus pandemic, we need to have a lineup of activities to keep our young ones engaged so they can continue exploring and learning indoors.
Here are some fun indoor activities for toddlers that I found after searching on different sites.
I've made sure to include a link to each of these sites so you can get the full tutorial if you want to try out the activity.
13 Fun Indoor Activities For Toddlers
1. Frozen Paint Cubes
The folks over at Learn With Play came up with this great idea to combine ice and paint to create frozen paint cubes.
You can get the full tutorial by heading over to Learn with Play at Home
2. Color Mixing With Ice
This is a cool science experiment with color that your toddler will definitely enjoy. They'll be fascinated to see different colors mixing with ice.
Get the complete tutorial at Learn Play Imagine
3. Color Wheel Game
This is a cheap and easy game that you can create for your toddler to learn more about colors in a fun and creative way.
Get the full tutorial HERE
4. Paper Plate Bird Craft
This super cute bird craft is very easy to make. They're also fun and colorful so your toddler will love this.
Learn how to make this at Happy Hooligans.
5. Game of Concentration
This is a very simple game that doesn't really require much to execute. It's all about concentrating to determine which toys have been removed from a lineup.
Are you interested in this game? Find the full instructions at Love and Marriage
6. Create Colorful Art
My toddler loves creating colorful stuff that we display around in the house. You can help your little one to create a simple piece of art that you can display in the house.
Get the full tutorial at Kid Play Do
7. Play Dough
This engaging activity will help to develop your toddler's motor skills. Your toddler can make whatever he wants with the play dough so this simple activity could occupy him for hours.
Plain Vanilla Mom explains how to use play dough for sensory play.
8. Sensory Paint Play
Bubble wrap is great to use for sensory play with toddlers. Therefore, don't throw it away after you receive a package.
Find out how the folks at Theot Toolbox used bubble wrap in fun sensory play activity.
9. Create A Quiet Book
Create a quiet book to read to your toddler during bedtime.
You can download a FREE quiet book template over at Quiet Book Blog
10. Make Confetti
All you need to make confetti with your kids is a pair of scissors and colorful sheets of paper.
You can get the full tutorial at Picklebums
11. Create A Sensory Tub
A rainbow sensory tub is a delight to make because it's so colorful and fun to play with. If you don't have pasta, you can use rice, salt or sand to make your own sensory tub.
Head over to Nurture Store to get instructions on how to create a sensory tub.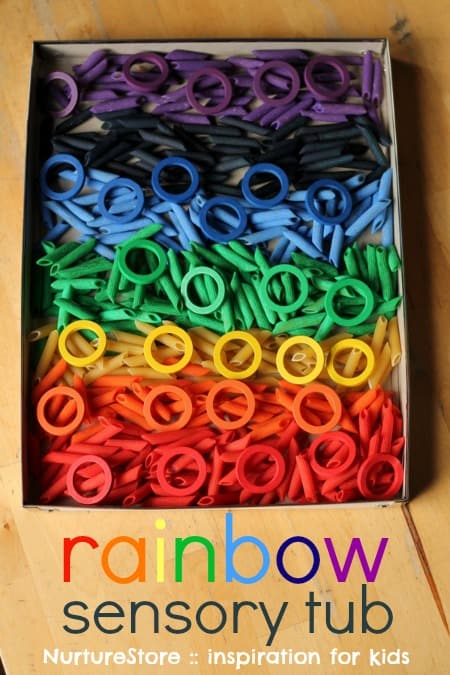 12. Create A Color Wheel
The color wheel is a fun, simple and creative way for your toddlers to learn their colors.
Get the complete tutorial: Teaching 2 & 3 Year olds
13. Rainbow Spaghetti
Your two year old will completely love this, who wouldn't?
Find the full tutorial HERE
Read Also: 16 Easy DIY Craft Ideas For Boys