Going camping doesn't mean taking a long trip to a camping site or a national park. You can create a perfectly good camping site in your backyard. Americans love camping because its very affordable plus, it brings you much closer to nature.
This is why over 41 million people participate in this recreational activity and this number isn't likely to go down any time soon. Camping is also a great way to bond with your kids away from the distractions of technology. However, there is a question that always comes up 'Is backyard camping safe?'
The safety of you and your family should always come first when thinking of camping in your backyard. You should be aware of the safety risks associated with this leisure activity so you can take the necessary steps to mitigate them.
In today's post, we're going to be looking at the safety issues associated with backyard camping so you can be adequately prepared for anything that comes your way!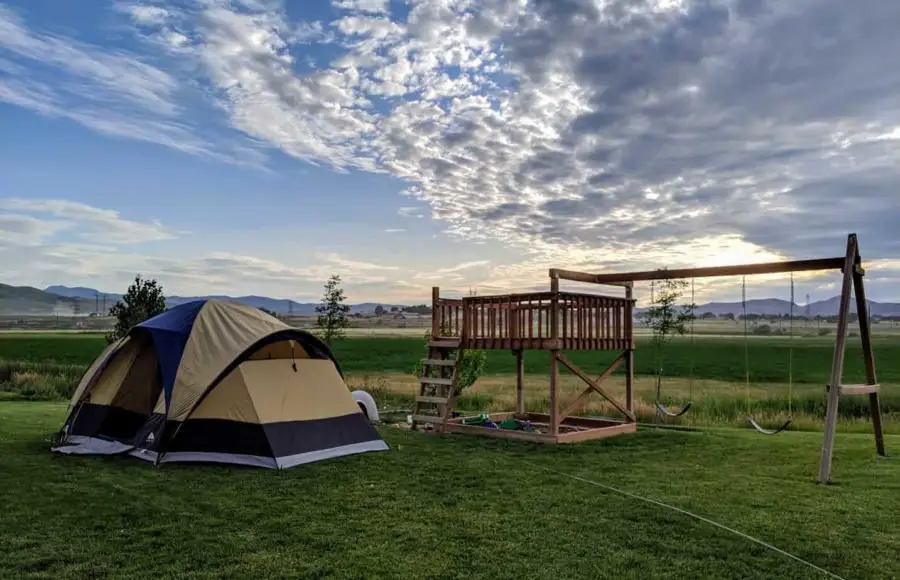 What Are The Risks?
The most obvious risks come from wildlife and humans. However, these risks will often be determined by the type of neighborhood you live in. For example, if you live in a safe and secure neighborhood with low crime rates, then you'll definitely worry less about strangers.
When it comes to wildlife, you might be scared of coyotes, deers, reptiles, etc getting close to your tent. You're right to be scared because these animals pose a danger to you and your kids. However, it's not often that you will encounter these animals in your backyard, especially if you have good fencing around your property.
In fact, according to the humane society, human-coyote encounters—and coyote attacks—are rare. However, if you're still concerned about wildlife interrupting your backyard camping, you can use a variety of scare techniques to keep them away. One of them is getting a defense whistle.
Recommended:
Survival Whistle with Lanyard and Keychain for Outdoor Camping Hiking Boating Hunting Fishing
Super loud survival whistle: double tubes emergency whistle can provide up to 120 decibels, enough to be heard at long distance.
Premium Quality: Aluminum Alloy Material, strong and durable.
Lightweight: only 12g, easy to carry.
Water-resistance camping whistle: Be used in all-environment all-weather, rainy day, humid weather with excellent airflow design.
Versatility: Loud safety whistle for camping, hiking, hunting, fishing, boating any kind of outdoor activities, also for dog training.
Weather And Camping Safety
When asking the question 'Is backyard camping safe?', one of the things that should inform your answer is the weather. You don't want to be hit by a sudden storm while you're in a tent and that's why you need to look at the weather forecast first.
Use your smartphone to set weather alerts so you can be notified of a storm before it happens. Make sure to set the location to the place you're staying so you can get accurate readings.
Factors to consider that'll help determine if backyard camping is safe for you and your kids
1.Kids and Parental Supervision
If you have young kids, you have no business leaving them camping without supervision. In today's world, our kids are in more danger than ever. There are so many harmful things that could happen to them if you're not keen on supervision.
Something could happen to your kids if you lose sight of them for less than two minutes! If you have enough supervision, you and your kids can confidently enjoy backyard camping.
2. Do you have a lot of mosquitoes or other bugs in your area?
The peskiest animals you can have in your backyard are mosquitoes. Mosquitoes cause more human suffering than any other organism — over one million people worldwide die from mosquito-borne diseases every year.
Not only can mosquitoes carry diseases that afflict humans, they also transmit several diseases and parasites that dogs and horses are very susceptible to. This is according to The American Mosquito Control Association.
If you're in a mosquito prone area, make sure to stock up on repellants to keep your family safe from diseases like malaria and dengue fever.
Check out Mosquito safety tips in this YouTube Video
If you don't want to use repellants because of the chemicals, check out this video on Natural Ways To Keep Mosquitoes Away
3.Have you checked the weather forecast?
I've already talked about this but just to put emphasis, weather is important. You don't want your family, especially your kids, to be cold and wet simply beacuse you forgot to check the weather.
The weather is an awesome indicator of whether or not it is safe to camp in the backyard. Make use of weather apps on your smartphone to help you predict the weather.
4.Do you live in a safe and secure neighborhood?
If you live in a neighborhood with a high crime rate, camping in your backyard is not safe. Take a good look at your neighbors to see the kind of people they are. Are they are decent people who are trustworthy and have no criminal records? All this will determine whether you live in a safe enough neighborhood.
Regardless, never take safety for granted. If you can, put motion sensors on your property and install a high walled fence just to give an added layer of security.
How To Stay Safe While Camping In Your Backyard
Treat it like any other camping trip you've ever taken. This means taking all the safety precautions including looking for overhead objects. Also, survey the surrounding area that you and your kids will be camping in.Check the ground for any rocks that will bring discomfort to you.
Prepare Your Campfire Site
Take all the necessary measures to ensure that you have a safe campfire in your backyard. This means clearing the area around the site for vegetation and other objects that could easily catch fire. Set ground rules for your kids so they aren't harmed by the fire.
Shop Related Products
Flowtron BK-15D Electronic Insect Killer, 1/2 Acre Coverage
Bocianelli 2020 Upgraded Ultrasonic Pest Repeller 6 Pack
Greenworks 13-Inch 4 Amp Electric Corded String Trimmer 21212