I can't believe that it's mother's day already!
To appreciate all our lovely moms this year, we've put together a collection of awesome Mother's Day craft ideas for kids that your kids can gift you with this year.
Here they are!
Easy Mother's Day Crafts to Make With Your Kids
1. DIY Crayon Candle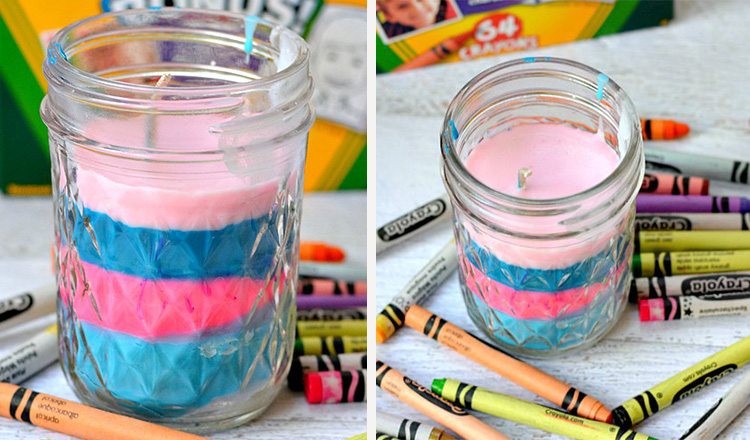 Sit together with the kids and help them make this fun and colorful candle for you! You'll need wax, wicks, old crayons, and containers for this fun project. Get the full tutorial at The Pinning Mama .
2. DIY Sand Art Candles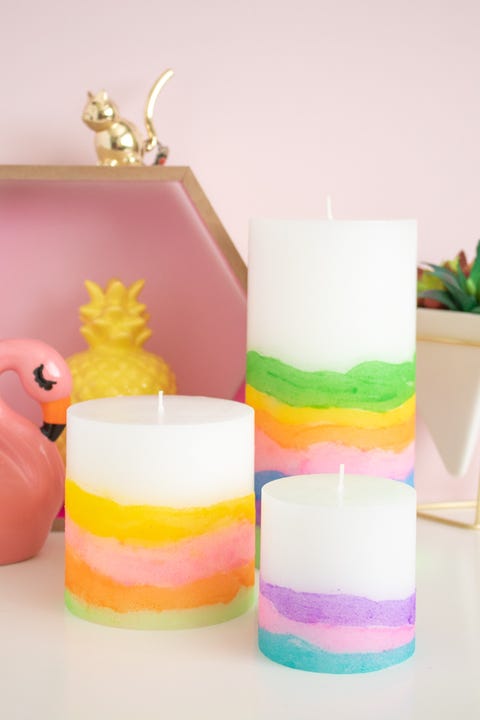 This awesome DIY sand art candle from Club Crafted is one of my favorites on this list. It looks really good and you can display it anywhere in the house.
3. Handprint Apron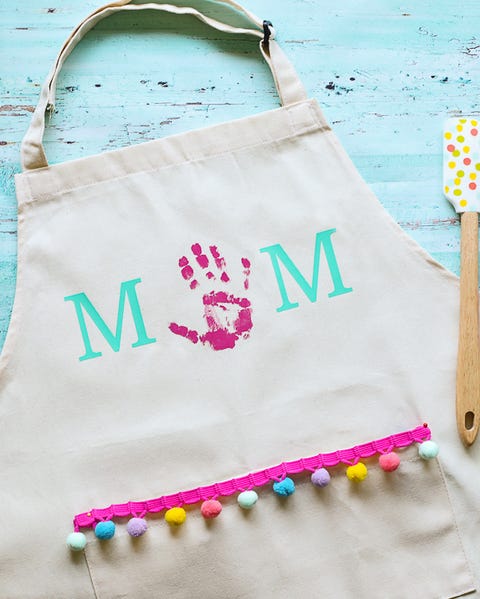 This beautiful gift for mom proves that a Mother's day gift can still be sentimental and precious no matter how simple it is. Get the full tutorial at The Craft Patch
4. Pop-Up Cards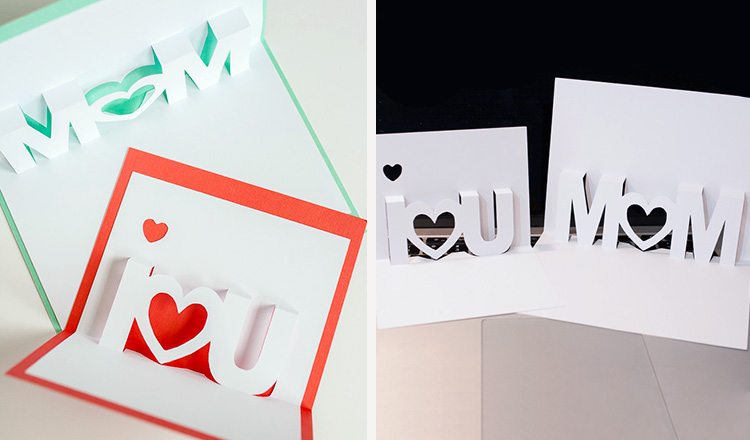 I love it when my kids buy me cards for Mother's day but I love it even more when they hand make them for me. One Dog Woof provides a template for this card that you can print out.
5. DIY Brooch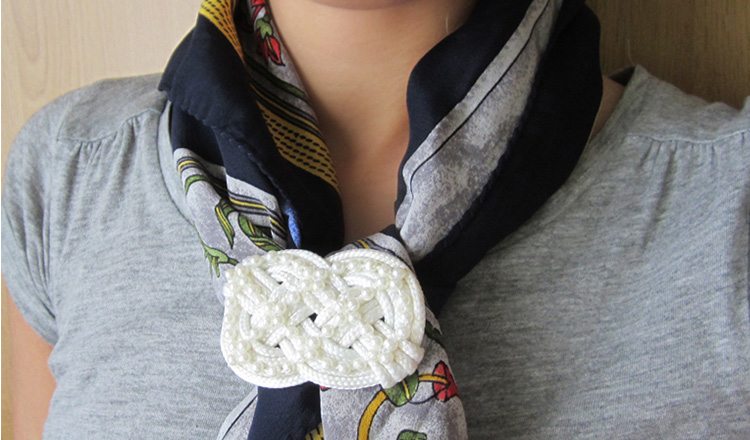 This is a very stylish idea from My White Idea that you should definitely try out.
6. Mother's Day Crown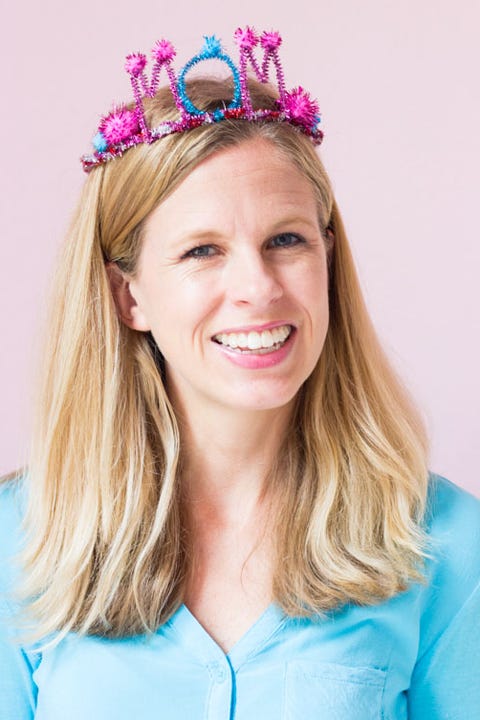 Every mom deserves to be a queen on Mother's Day! You and your kids will have so much fun making this DIY mom crown from Design Improvised.
7. Button Bookmarks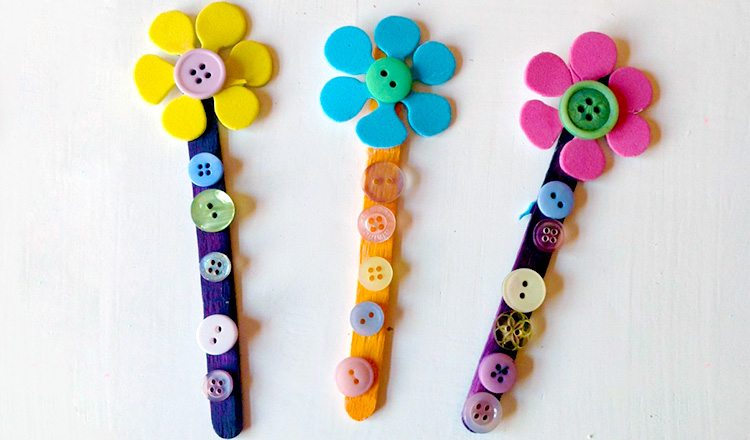 It doesn't take much to make this easy craft from Clare's Little Tots. You'll only need popsicle sticks, stray buttons, and foam and you're done!
8. Rock Portrait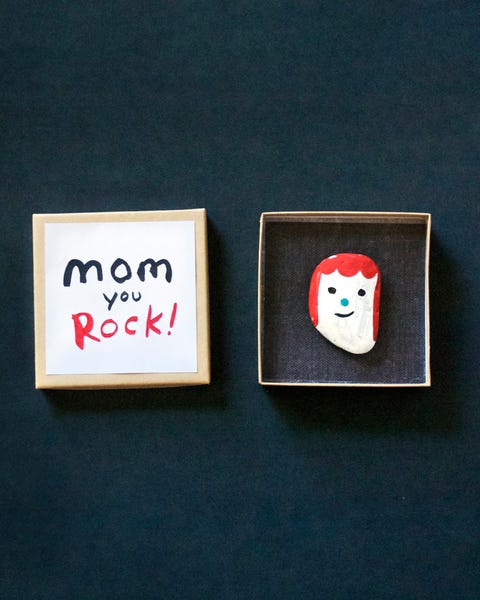 This simple craft will require a lot of creativity because you'll be turning a simple rock into a piece of art. Pick a rock from your backyard, choose a color, and paint it. Get the complete tutorial at Mer Mag.
9. Mother's Day Plates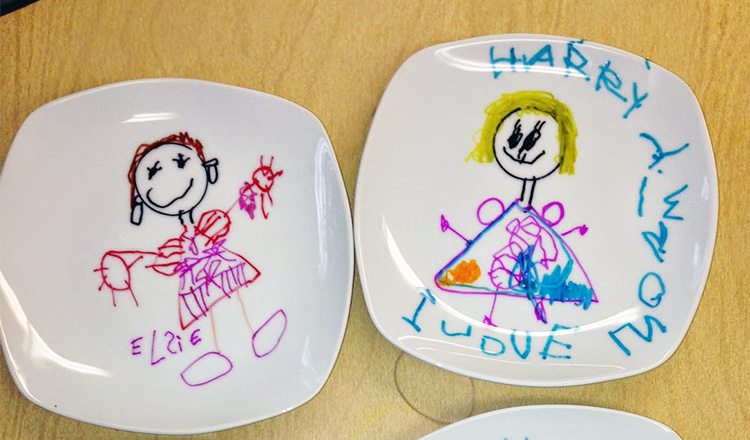 You don't need any fancy canvas to make a work of art. A simple plate will do! The best thing about this craft from Mrs. Goff's Kinders is that it'll last longer than art done on a piece of paper so you can enjoy it for years.
10. Origami Heart Bookmarks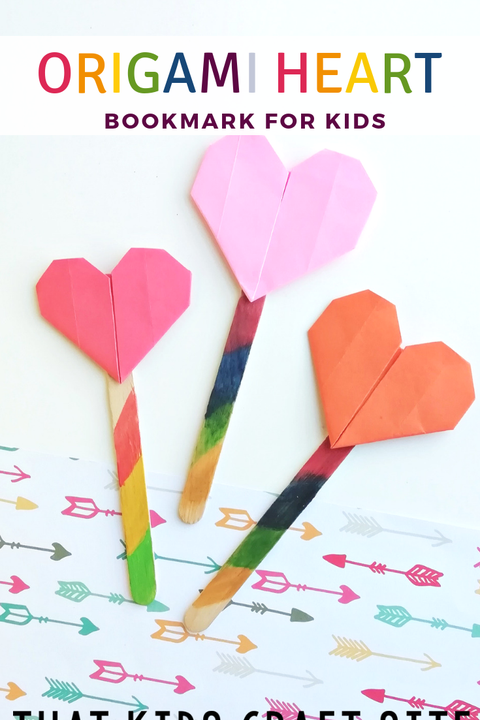 Every time you turn a page in your book, you'll be reminded of your thoughtful kids. Get the tutorial at That Kids Craft Site.
11. Tea Cup Cards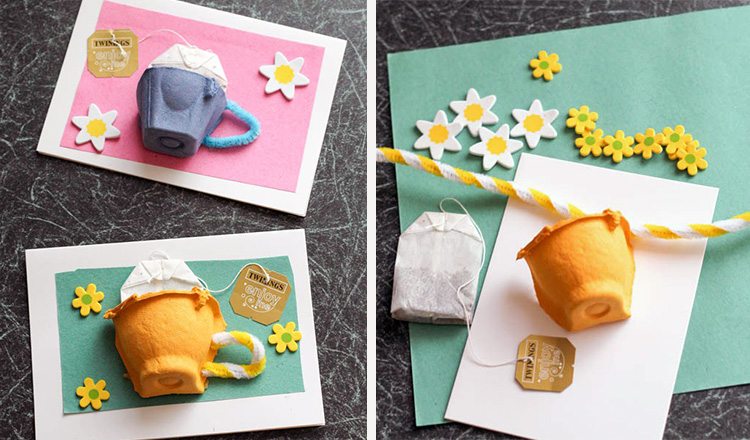 In the Playroom cleverly uses old egg cartons to make this 3D Mother's Day card.
12. Painted Pasta Necklace
This craft will require you to color pasta but the end result is amazing. This is a quick and easy activity that the kids will love. Get the tutorial at Picklebums.
13. Thumbprint Coffee Mug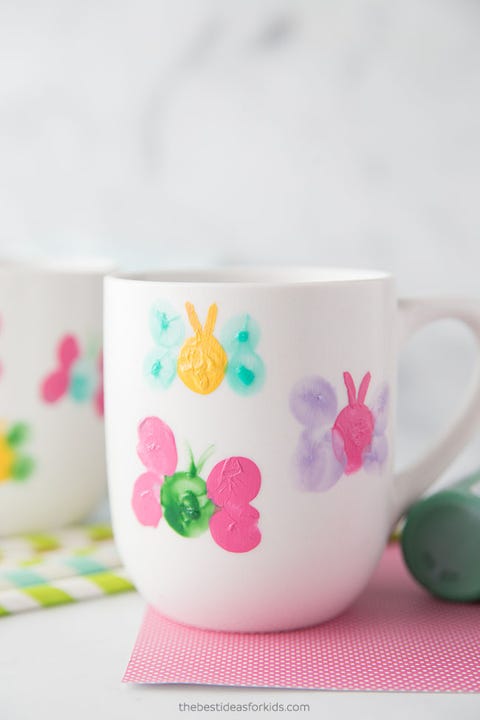 Let the kids have fun with your coffee mug so you'll think of them every time you're taking your cup of coffee. Get the tutorial at The Best Ideas for Kids.
14. Rainbow Butterfly Footprint Artwork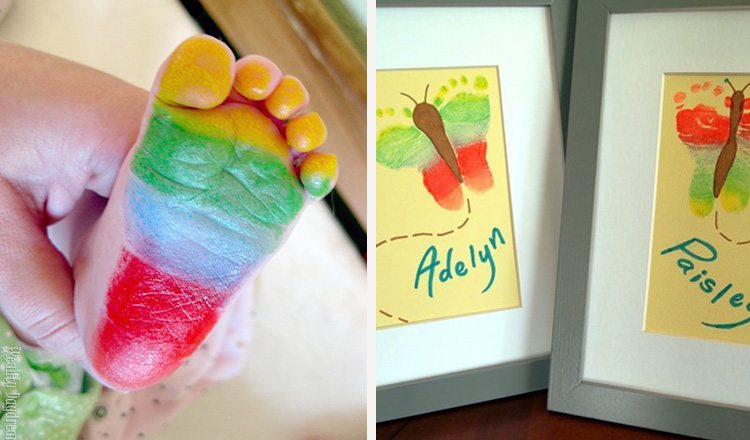 I love receiving artwork from my kids on Mother's day so this simple artwork from Reality Daydream is just perfect.
15. DIY Gift Bag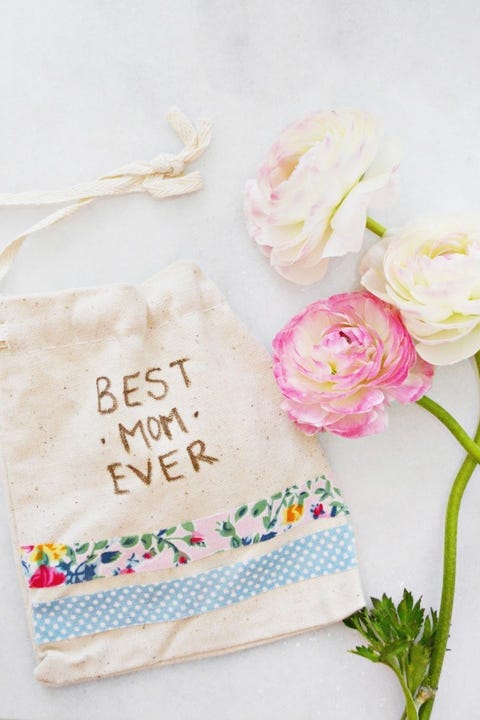 This awesome craft is very simple to make. Follow instructions from A Joyful Riot and you're all set!
16. Mother's Day Origami Card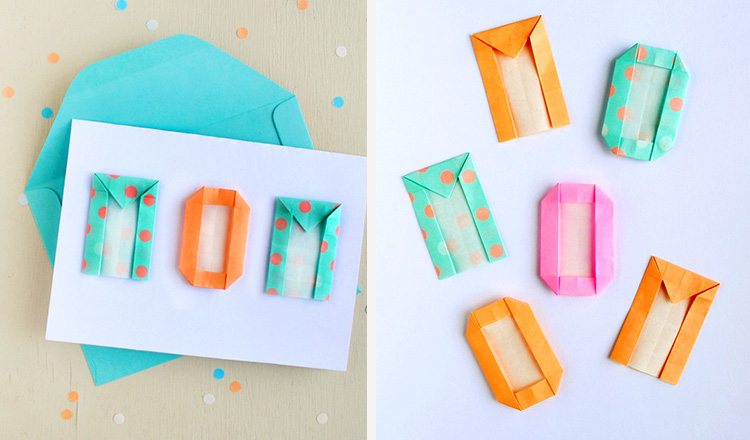 This craft is not the easiest on this list but if you're able to pull it off, you'll have a great mother's day gift. Get the tutorial at Zakka Life.
17. 'You Light Up My Life' Card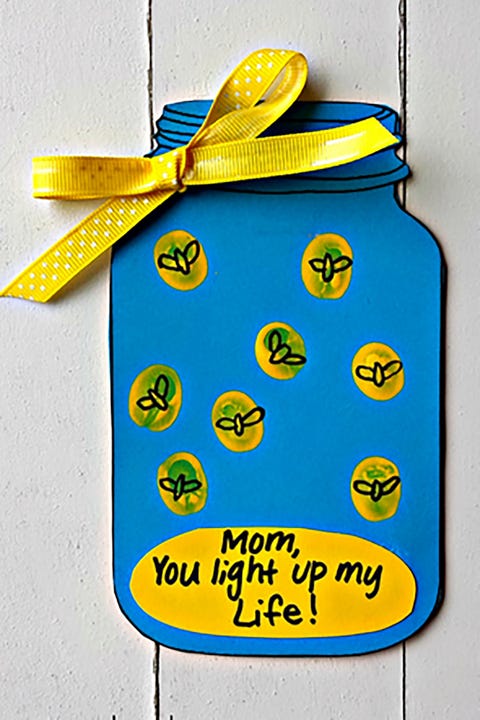 This handmade Mason jar card from Crafty Morning will have you smiling all day long!
18. Heart Thumbprint Platter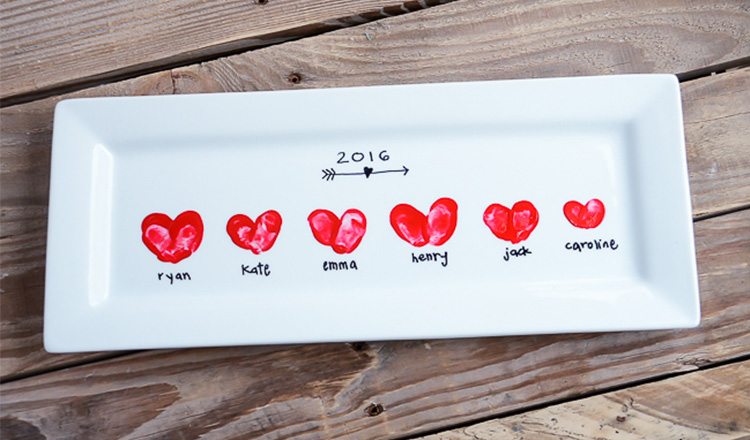 You'll need some red paint to make this personalized platter from Simply Kierste and the good news is that you can have it for many years to come!
19. Paper Scraps Greeting Cards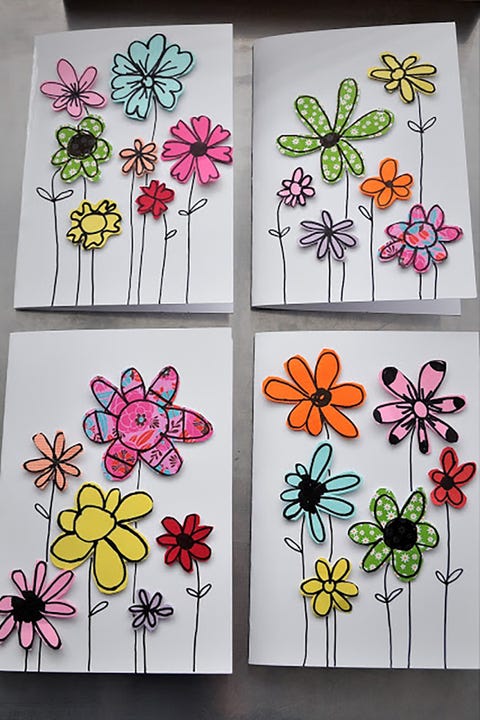 Cards are a pretty common Mother's Day Gift but they're still special. You can use old pieces of scrapbook paper, wrapping paper, or card stock to make this card from Mama Is Dreaming.
20. Mother's Day Purse Card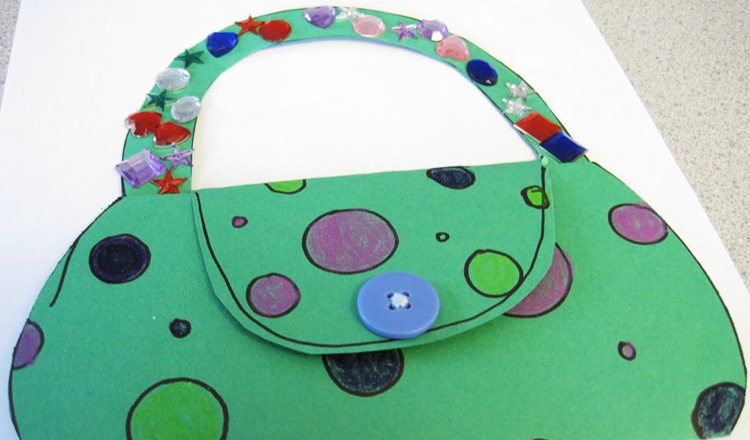 Any mom will love this unique purse card from Craft Crawlers
21. Handprint Oven Mitt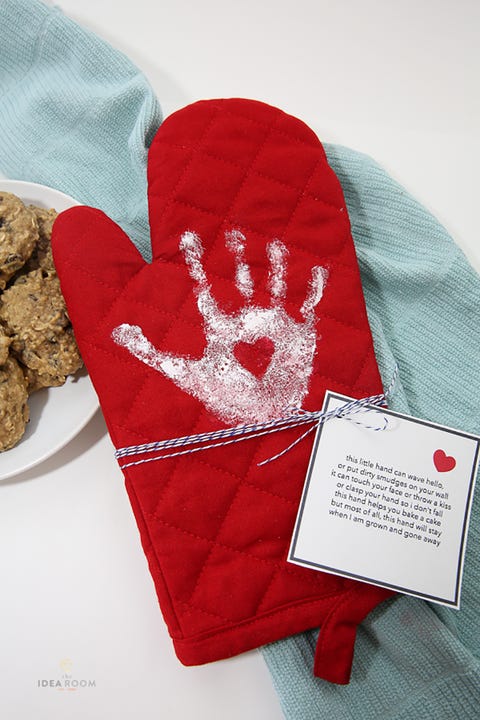 This is one of the simplest but precious crafts on this list. Every time you're in the kitchen, you'll see your little one's handprint and you'll be able to cherish it for years. Get the complete tutorial at The Idea Room.
22. Dashes and Dots DIY Floral Mug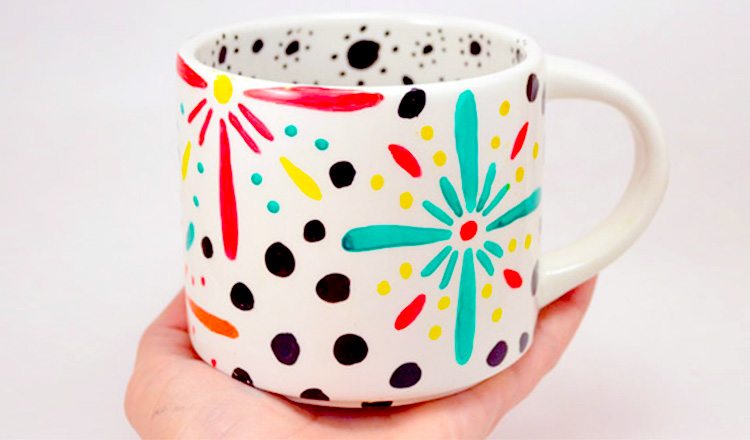 Follow this tutorial from I Love to Create to make this awesome coffee cup.
23. Egg Carton Flowers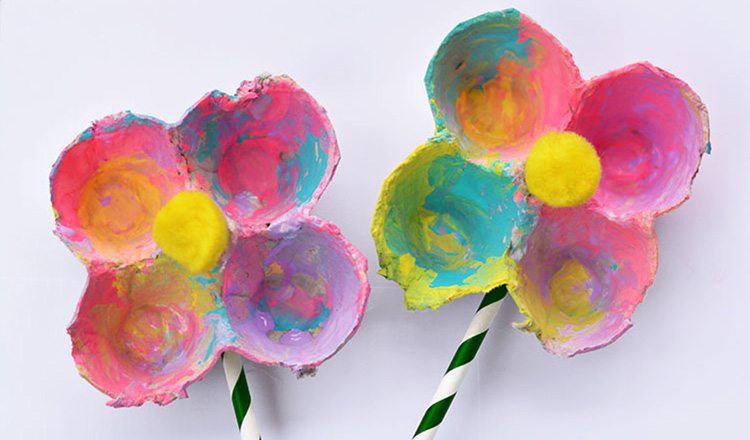 There are so many awesome crafts you can make from egg cartons. Here is one of them from I Heart Arts n Crafts
24. Handprint Clay Jewelry Dish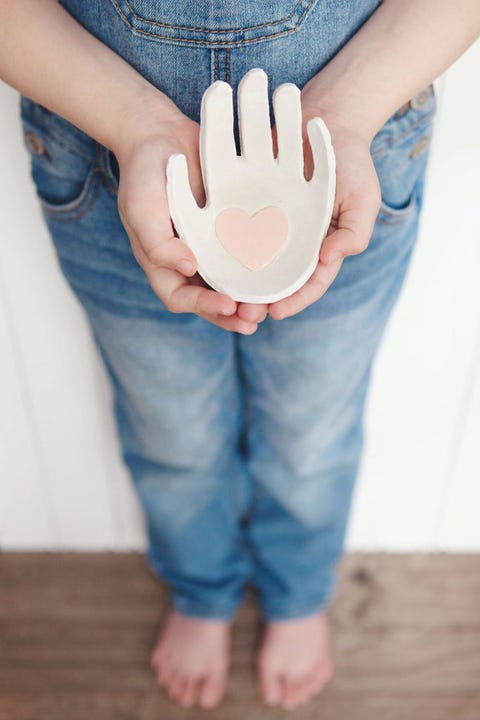 There are so many craft ideas for hand-shaped dishes on Pinterest and this one is from Simple as That. This handprint jewelry dish is easy to make and you'll have it for years to come.
25. DIY Dandelion Bouquet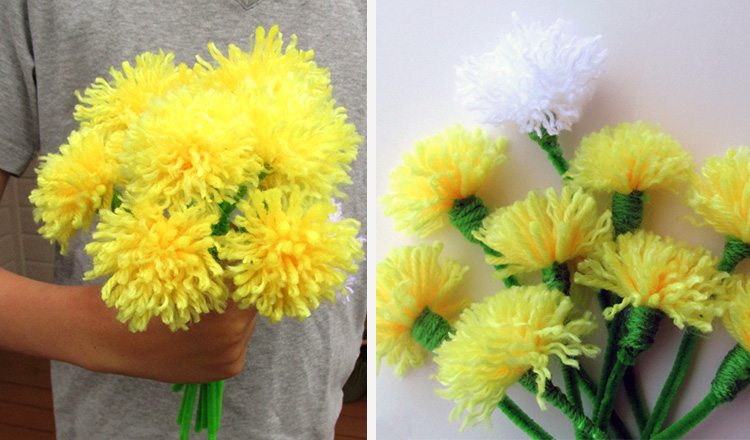 Easily use a fork to make this faux dandelion bouquet for mom. Bren Did shows you how.
26. Felt Flowers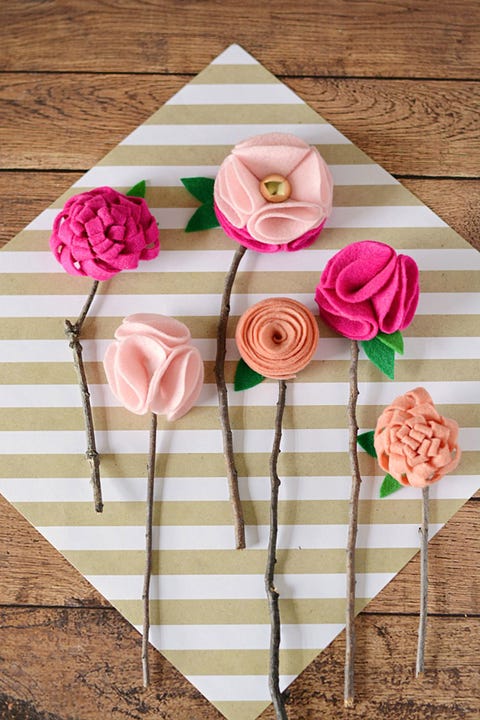 Felt flowers are just as pretty as real flowers and they last longer. Get the tutorial to make this awesome craft at Mommy Moment.
27. DIY Soap Gift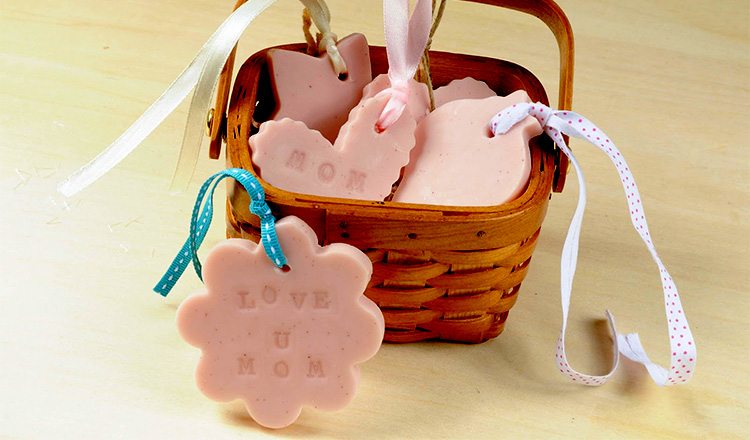 Moms deserve to sit back and relax on mother's day. Make these tiny handmade soap gifts from Mazzi's Blog to give mom the perfect spa treatment.
28. Hyacinth Flower Card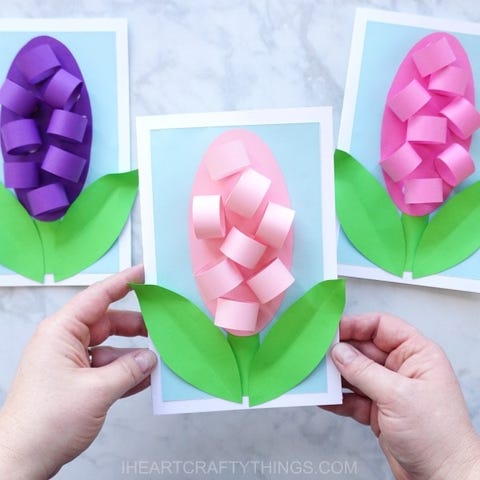 A handmade card is the best gift idea for Mother's day. Get the full tutorial at I Heart Crafty Things.
29. Handprint Coasters
Anytime you set down a drink, you'll be reminded of your thoughtful kids when they make you this beautiful craft from Dwelling in Happiness.
30. Abstract Felt Art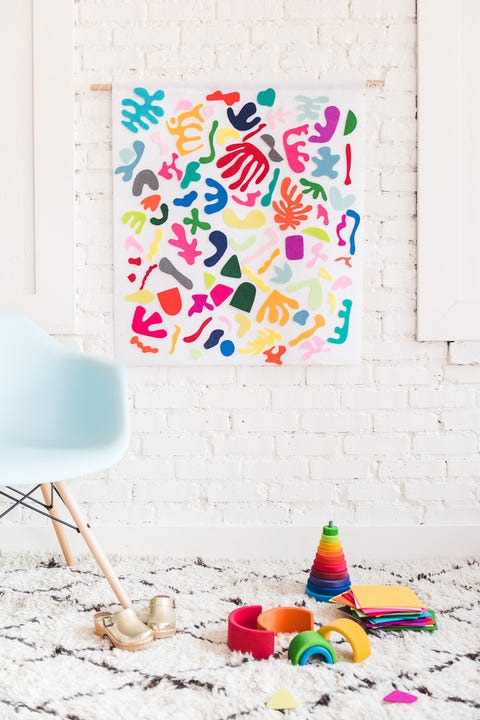 This is yet another work of art that is a great gift to make mother's day more special. Get the tutorial at The House That Lars Built.
31. Spring Cupcake Flowers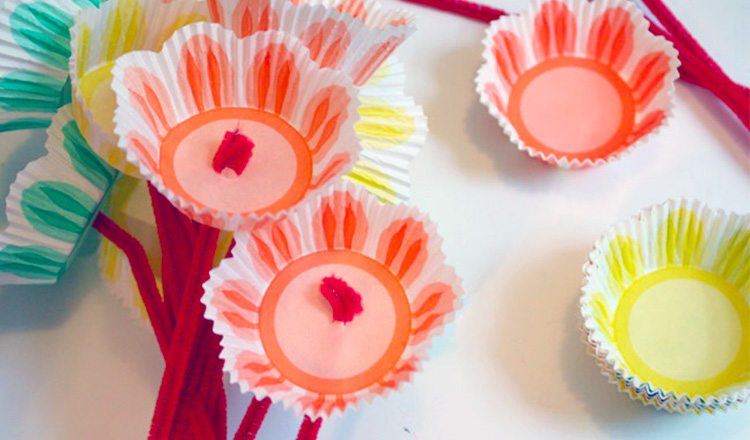 If you already have cupcake liners in your house, this craft should be very easy to create. Get the tutorial at Momtastic.
32. Pom-pom Bouquet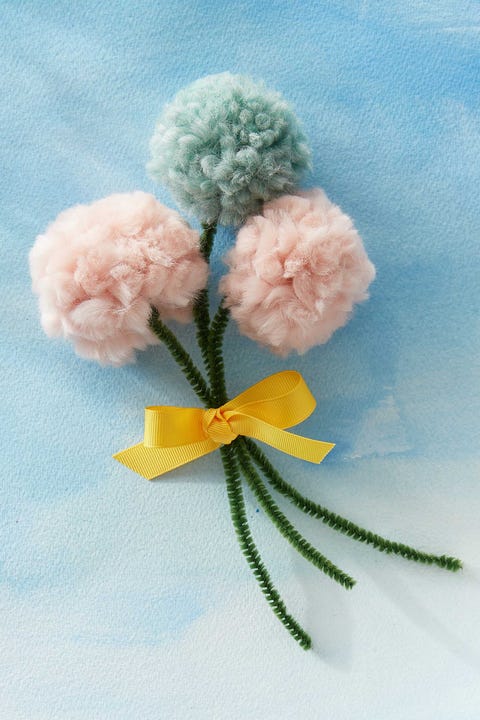 This craft is also very easy to make. Simply place a green pipe cleaner parallel with the tines of a fork so that it extends 3 inches above the tines. Wrap yarn perpendicularly around all the tines.
Fold the 3-inch section of pipe cleaner down over the yarn, slide everything off the fork, and wrap the two pieces of pipe cleaner together.
Carefully cut the wrapped yarn and trim any scraggly ends. Once you're done, wrap stems together with a length of ribbon.
33. Stitched Paper Cards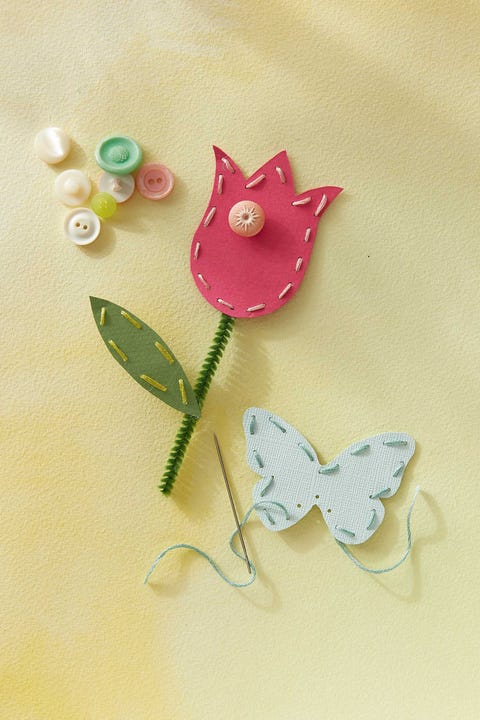 To make this beautiful stitched card, you'll need a medium to thick craft paper, embroidery floss (you can also use thin twine or yarn), small hole punch, and a pipe cleaner.
Cut a shape on the craft paper then punch holes along the border with a small hole punch. Stitch, using embroidery floss, thin twine, or yarn. Add additional flare like a pipe cleaner stem and a pretty vintage button.
34. String Art Thread and Milk Jug Necklace
Every Mom loves getting jewelry for Mother's Day. Follow this easy tutorial from Pink Stripey Socks.
35. Craft Stick Picture Frame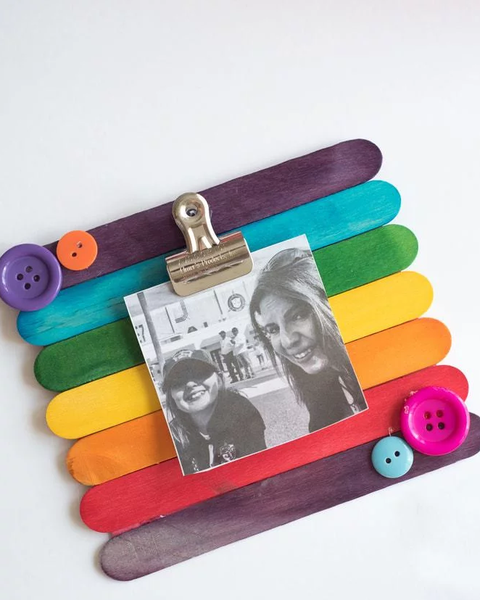 Let the kids pick out their favorite photo with Mom and use this handmade frame from A Few Shortcuts to display it!
36.Hand Painted Mini Cactus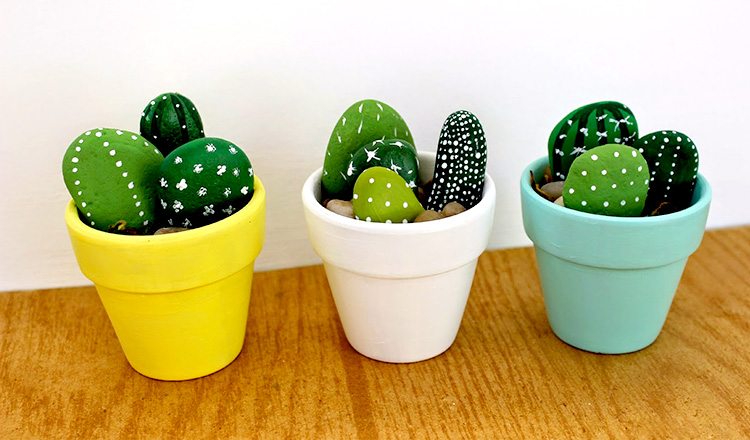 This faux plant from Salt and Pepper Moms is a great gift because you don't have the responsibility of taking care of it!
37. Tin Can Planters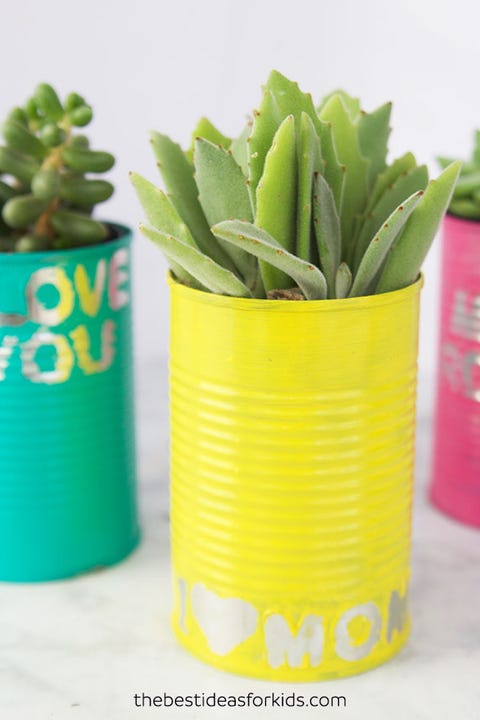 Let the kids decorate the tin can planters with loving messages for mom. Get the tutorial at The Best Ideas for Kids.
38. Black Glue Heart Art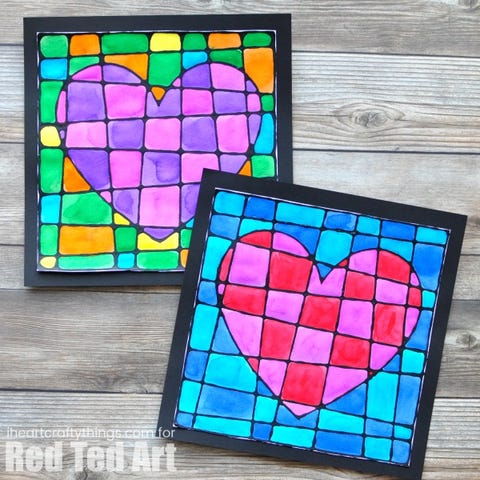 Put a creative spin on Mother's Day heart motifs with a fun checkerboard pattern. Get the tutorial at Red Ted Art.
39. Handprint Flower Pot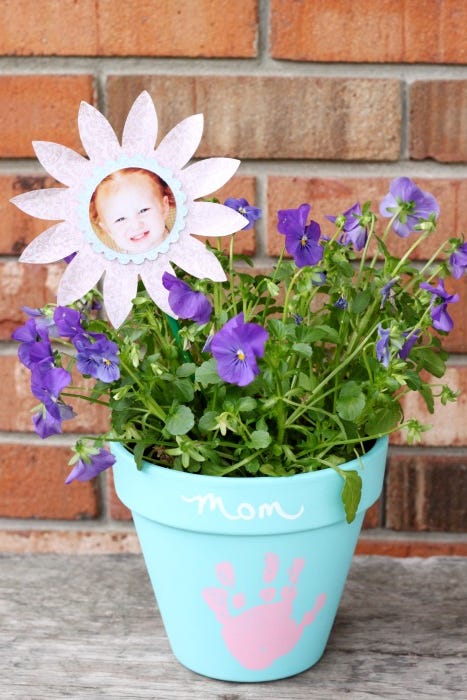 Give mom a personalized pot with a photo of her favorite person. Get the tutorial at All Things Mamma.
40. Mini Pipe Cleaner Pots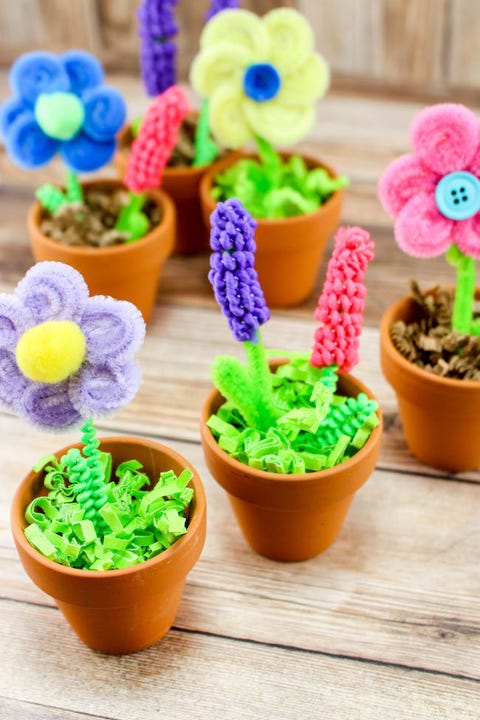 This garden craft is awesome because you don't have the added responsibility of taking care of it. Get the tutorial at Plum Crazy.
41. Polaroid Magnets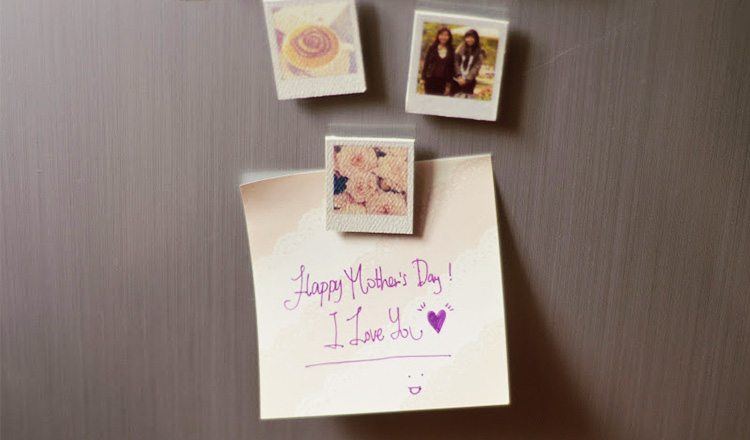 If you're looking for mother's day craft ideas for kids, you should definitely consider this. It's very simple. Get all of mom's favorite pictures and follow these steps laid out by Sundae Sins.
42. Fingerprint Heart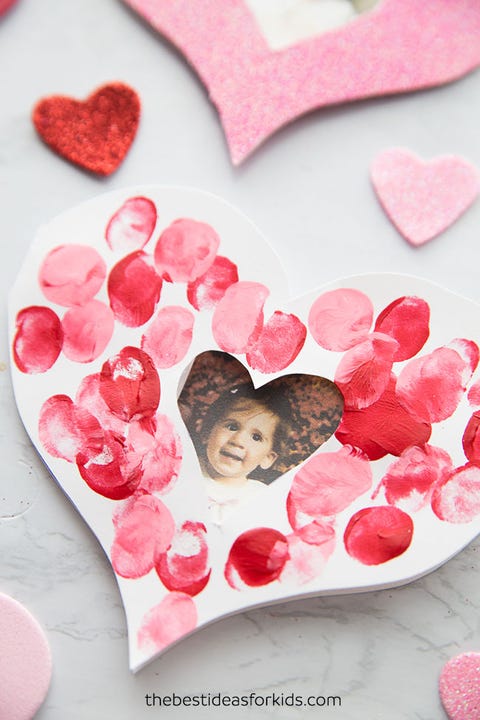 Sit together with the kids and help them cut out the heart shape. Everything is easy after that. Simply let them use their fingerprints to do the decorating. Get the tutorial at The Best Ideas for Kids.
43. Clay Hand Jewelry Holder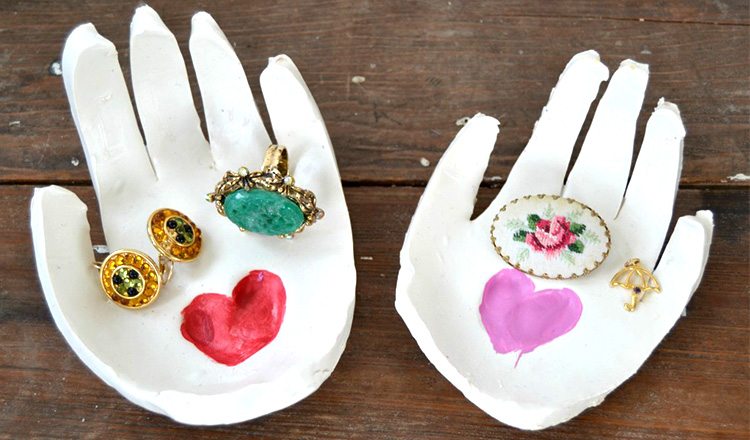 Follow these instructions from My Creative Days to give mom the perfect gift to keep her jewelry.