Reusing old tyres is a creative and innovative way to design your kids' outdoor play space.
Instead of disposing of your old tyres in a landfill, you can reuse them to come up with something useful that your kids and their friends will enjoy for years to come.
The best thing about reusing old tyres is that it's very cost-effective. There are so many ways that you can use them to create engaging outdoor play spaces for your kids.
I've put together some of my favorite ways of reusing old tyres that I hope will help you find inspiration- especially if you have some old tyres lying around in the garage.
Let's get started.
How To Reuse Old Tyres in Outdoor Play Spaces
1.Make a Tire Totter
DIY your own tire totter using this tutorial from my fix it up life.
2.Tether Ball
Make your own Tether Ball with this tutorial from Style with Cents.
3.Mud Kitchen
Learn how to create this awesome tire Mud Kitchen on 1001 Gardens.
4.DIY Tyre Obstacle Course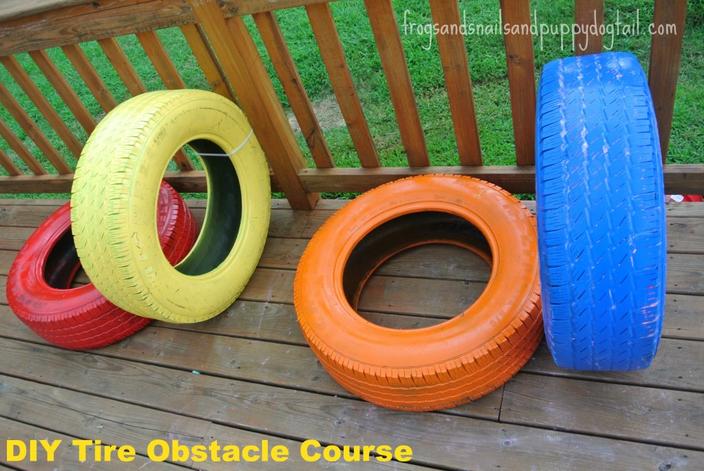 Frogs, Snails and Puppy Dog Tails has created this easy obstacle course by using just a few tyres – lots of fun for toddlers!
5.Half Buried Tyres
These half buried tyres are great for children to climb, jump and balance on. Source.
6.Fairy Garden, And Small World Play
This cool design from Let the Children Play creates a fun space for your kids to be active.
7.Tire playground
You can repurpose old tyres by building an awesome playground full of cool designs like this one from Trail Journals.
8.A Balancing Challenge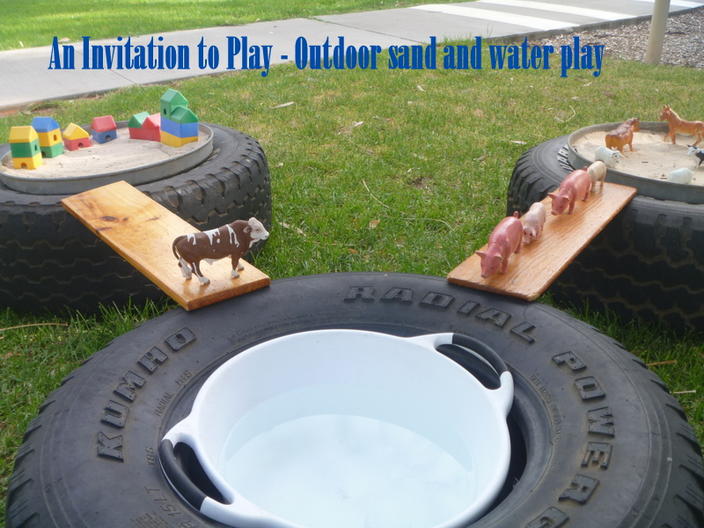 There are so many possibilities with this design that you can explore. However, the most obvious is creating a balancing challenge that will invite your kids to go outside and explore! Source.
9.Climbing Tower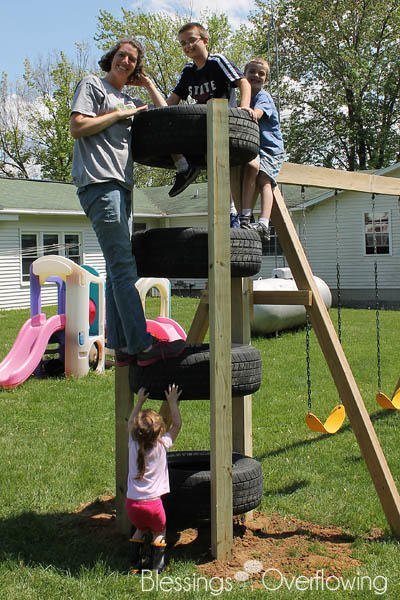 Your kids will have a blast climbing up and down this awesome climbing tower! – see how it is made it over at Blessings Overflowing.
10.PlayDome
Your kids will completely love this! It really isn't that difficult to make. You can get the full instructions here.
11.Playground Border
Use tires to border your play area. It's as easy as it sounds! This great idea came from Louise Holland of Bear Family Child Care.
12.Tyre Tunnel
The kids over at Art & Soul Preschool and their teacher had a blast creating this tyre project that is now being used as a dragon's perch, a hideout, and a horse!
13.Tyre Planter Fence
Do you want your kids to be more involved in gardening? How about turning tyres into a garden fence for the children to take care of. Source.
14.Tyre Enclosure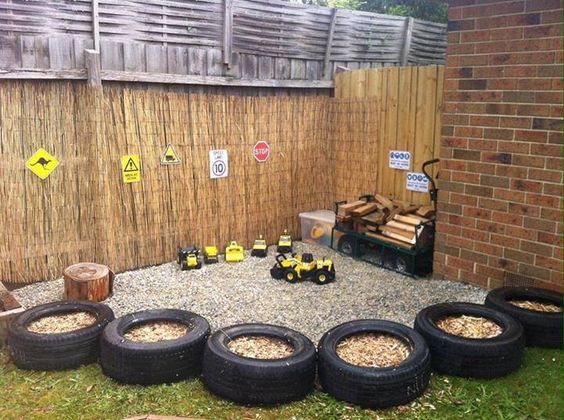 Your kids will definitely love this!
15.The Sandbox
You can fill the tyre up with sand to create an awesome sandbox for your kids. However, I would not recommend buying sand from hardware stores and home improvement stores because it contains toxic ingredients.
Recommended: Sandtastik Sparkling White Play Non-toxic Sand
16.Small World Tyre Area
The tyres above have been arranged together to form a welcoming enclosure of small worlds to play with in different ways. Simple sensory materials, loose parts and items from the garden come together to invite play using imagination and the senses. Source.
17.Tyre Table
Find out more about this clever and innovative design! Source
18.DIY Toadstools Tyres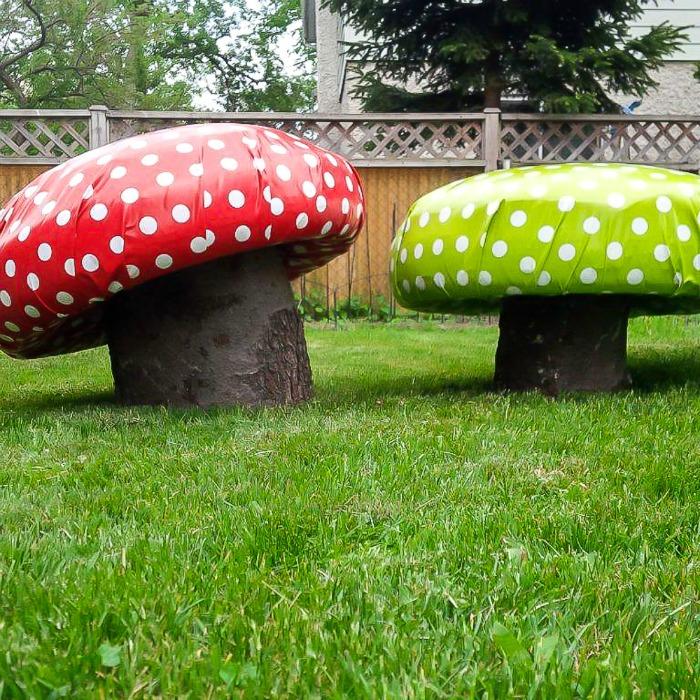 Tyres, wood stumps and a few other materials are all you need to achieve this fabulous design . See the tutorial over at Grillo Designs.
19.Tyre Cushions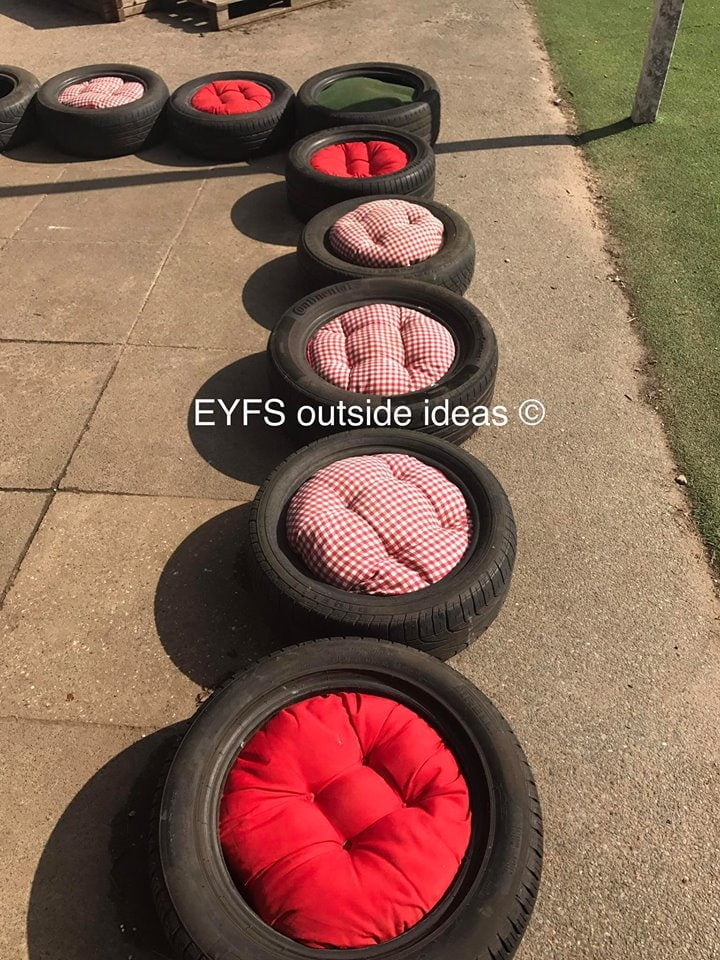 Or pop some cushions in for a soft seat…..or to create stepping stones! Source.
20.Fun Tyre Swing
Find the comprehensive tutorial on how to make this fun tyre swing at EHow.
21.DIY Recycled Tyre Swing
Make a DIY tire swing with this tutorial from By Stephanie Lynn.
22.Ladder
Use Tires as a Ladder. Check out this Tutorial by Exploring Domesticity
Other Awesome Tyre Designs