How do I keep my teenager occupied in the summer? In this post, I'm going to share some fun summer activities for teens that will ward off the boredom and keep your teenager active and entertained all summer long!
These are summer activities for teens during covid because this year, the summer holiday will be completely different.
It's going to be much harder to keep our teens active because of lockdown.
We won't be able to go to the beach or enjoy many of the fun outdoor activities that we're accustomed to.
That's why I have researched some fun summer activities that we can still do with our teens regardless of the situation.
Keep reading!
Summer Activities For Teens And Tweens
Plan Fun Projects To Last All Summer Long
It's hard to look for new ideas every day to keep your teen busy and to be honest, it won't be long before you completely run out of ideas.
That's why it's a great idea to look for a project that will keep them occupied throughout summer!
Here are some few ideas:
1. Start A Business
You do not need to have a physical office to start a business these days. Everything can be done online.
COVID has taken a lot from us but it has also given us some opportunities. You only need to know where to look in order to find these opportunities and take advantage of them.
For example, my friend's 17-year-old daughter recently started an online business where she connects local businesses like grocery stores with people in her community and they're able to receive essential goods without having to step outside their doors.
At first, she started this as a way of helping out in her neighborhood but soon it became a full-blown business where she actually earns money.
Right now, she has employed 5 of her friends and they're working together with local businesses to deliver groceries, medicine, etc.
This activity will keep your teen occupied for most of the summer and even after summer is over.
2. Let Them Volunteer
There are so many people in need right now because of the whole covid situation. So many people have lost their jobs and their means of livelihood.
This is the perfect time to teach your teen the value of giving back to the community. There are so many organizations that are helping in donating food, clothes, etc to those in need and they accept teen volunteers.
If you have such an organization in your community, encourage your teen to join so they can enjoy volunteering throughout the summer!
3. Encourage Them To Learn A New Skill
Learning a new skill takes time so it's more than likely that this will keep your teenager occupied all summer.
Some skills that teens can learn include; photography, art, cooking, etc.
They can even learn a new language!
All these skills can be learned at home; including photography.
For example, your teen can take pictures of interesting things he finds in the backyard or even things that he finds inside the house.
When it comes to cooking, your teen can learn a new recipe every day and prepare a meal for the entire family!
There are so many recipes to learn that you can never run out!
NB/: Look for a skill that is in line with your teenager's interests. This means finding something that you're sure that he will be interested in learning.
4. Start A Vlog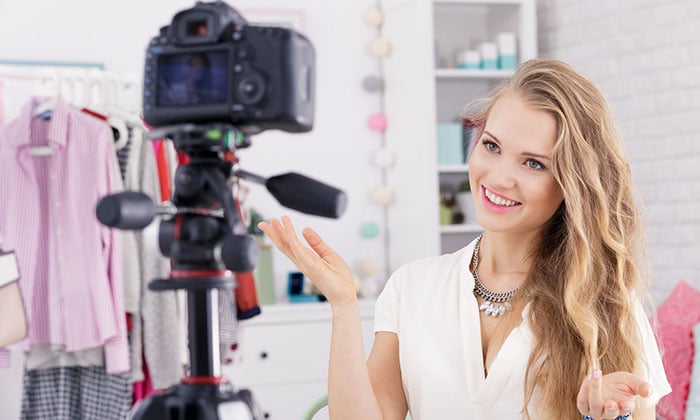 Your teen can start a vlog about their everyday life and how they're doing summer indoors.
Get a camera, document what you do every day, and upload it to Youtube. There are people who are making a ton of money vlogging and your teen could be one of them.
This is a great time to start a vlog because people are actually curious to know how everyone else is coping with being stuck indoors all day, especially in summer.
Watch this video if you want to learn how to start vlogging!
5. Allow Your Teen To Facetime With Friends
Under normal circumstances, your teen would be spending time with his/her friends during summer.
But since this won't be possible this year, the next best thing is to meet online.
Let them have fun talking with friends and if they want, they can plan an online event where they all meet and have fun together.
6. Make A TikTok Video
Tiktok is a great way to occupy a teenager.
There are so many fun TikTok challenges that people of all ages are doing. For example, your teen can do a TikTok dance challenge with friends.
On top of that, he can actually make money on tiktok. Check out this video:
7. Go To A Drive-In
Movie theatres are not open right now but your teen can still enjoy a movie with friends at a drive-in theatre.
However, they should always be careful to follow the social distancing guidelines at the drive-in theatre so they can keep safe.
Alternatively, your teen can host a virtual movie night with friends using apps like Netflix party.