My husband and I are struggling to find fun things to do at home with our highly energetic kids now that we're with them for an extended period because of the Coronavirus pandemic.
Right now, it's just not possible to go out and do the activities they love like playing in the parks or visiting friends.
I was getting desperate and the kids were getting restless so I decided to do some research to find out some fun things to do at home with kids that will get us all through this unexpected isolation period.
17 Fun & Creative Things to do at Home with Kids 
1. Do Art Activities
My kids love art and they're always asking me to make stuff with them. So, I thought it would be a great idea to incorporate art into our daily schedule where we all work together to make something fun that the kids can be proud of.
I realized that the best thing about arts and crafts is that it can occupy a child for hours because it's very engaging.
Here are some of the arts and crafts activities that we tried out.
2. Play Indoor Games
There are so many fun indoor games that you can play with your kids so they don't miss out on their playtime.
So, as part of my kids' schedule, I include playtime and each day, I plan on introducing a new game that I know they'll love.
I'm trying to keep things as fresh and interesting as possible because I know that my kids get bored very fast and they'll lose interest.
Here are some of the indoor games that I have planned for my kids.
3. Camping Indoors
To be honest, my living room is a complete mess right now because of the kids. However, the good news is that no one will be visiting for a while.
Since we've been talking about going camping a lot, but we've never actually gotten around to doing it, I thought that this would be a great idea.
So, we put up a tent in the living room and tried to make it as realistic as possible.
My kids loved it!
Here's How To Make A Camp At Home
4. Try a Cookie Recipe
I actually got this great idea from my kids. They love being in the kitchen with me and they love making cookies 😂 so this was a no brainer!
Instead of using the same old recipes, I thought why not try something new just to mix things up.
So, this was more of an experiment for us and it actually turned out great. We all felt a sense of accomplishment at the end of it all.
5. Play Dress Up
For this activity, I let my kids decide the character they would love to be using the old items we have at the house.
Mostly, we used old Halloween costumes that had been lying around in the basement and everything came together pretty quickly.
To make things more fun for the kids, I let them decorate their own costumes and in the end, we had a little competition to decide who was best dressed!
6. Have an Indoor Picnic
My family loves picnics and since we can't go outdoors, we decided to do it in our living room.
I tasked my husband and kids with laying out the blankets in the living room and adding some pillows to make it cozier as I set out to prepare the perfect dishes for our picnic.
An indoor picnic doesn't have to be extravagant. A simple recipe will work perfectly and you'll make your family happy either way.
7. Yoga
My kids enjoy watching me do yoga in the morning and they really wanted to try it out so I let them. It was so much fun seeing them try to do the downward dog. 🤣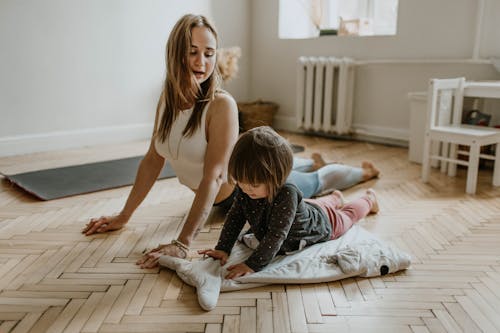 This is a great bonding activity for you and your kids so you shouldn't pass it up. Let your kids also join you in other activities you love doing.
8. Throw A Family Dance Party
Curate an awesome playlist, decorate the living room and invite your entire family for a dance party they'll never forget.
To make it more fun, ask your family to dress up in their best attire. If you want to go a step further set a dress code for the party!
9.Redecorate The Kids Room
Really, there's no better time for a little diy project than now. Get the kids involved in decorating the room so that they'll own the process.
The benefit of doing this is that your kids will be able to express themselves through their participation. Also, it will enhance their creativity.
10. Play Spa Day
There's nothing more relaxing than a spa day. However, since we cannot go outside, we need to take the party inside.
Create a spa in your house by dressing up in robes and comfortable slippers and enjoy a nice, cool beverage with your kids. Take turns giving each other massages even if you're not good at it.
11. Do Chores Together
Your kids will probably not enjoy this unless you make it fun for them. So, create a sort of game to play while doing chores.
For example, try to compete on who can fold clothes the fastest in 5 minutes.
When doing chores with your kids, you will probably accomplish things much slower but it's worth it if it can keep your kids entertained.
12. Build A Giant Fort in the Living Room
You want to give your kids their own space so they don't feel claustrophobic in quarantine and the best way to do this is to create a fort that is exclusively theirs.
It's very easy to build a fort and you can do it in a matter of minutes. All you need to do is gather blankets and pillows around the house and bring them to a central location where you plan to build the fort, Have your kids help you out with this.
13. Read Your Favorite Books
Snuggle up on the couch with the book that your children love and spend time reading to them. You can also explore reading other books that you think your kids will love.
If your kids are at the reading age, set some time in their schedule exclusively for reading. This will also help them so they don't fall behind in their school work.
14.Create A Home Video
This is one of the best things to do at home with kids because you'll remember it for years to come. It's also fun because it's a project that the whole family can participate in.
Once the video is done, you can also send it to family members living in other cities. It'll brighten up their day!
15. Learn Something New
You have more than enough time to learn some new things to do at home with kids. For example, you can learn how to juggle or how to play an instrument.
You can also learn new recipes that you can try out together. The options are endless!
16. Binge Watch Your Favorite Movies
My kids love Frozen so that's what I've been coerced into watching again and again. Pick out the movies that your kids love and let them watch it as many times as they'd like just don't overdo it.
Create a sound schedule for your kids to follow that includes them watching their favorite movies
17. Watch Kids Shows
As part of their schedule, let the kids watch their favorite kids' shows on television. However, don't let the kids watch TV all day. Engage them also in the other activities in this post.